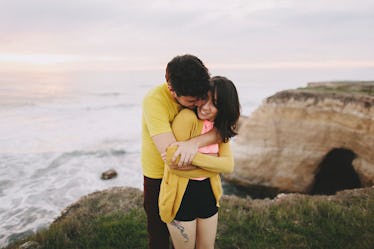 6 Romantic First Anniversary Ideas, Because You Never Forget Your First
There are a multitude of anniversaries that are considered especially meaningful. Your wedding anniversary is obviously momentous, as is your five-year anniversary and 10-year anniversary. If you're nostalgic, like me, the anniversary of your first date always has a special place in your heart. And then, of course, there's the one-year, which is definitely worth celebrating. The only question? How to celebrate. The most romantic first anniversary ideas are the ones that take your one-of-a-kind story and specific preferences as a couple into account.
Spending an entire year with someone is significant: It means you've learned a lot about each other, you've seen some of each other's flaws, you've potentially worked through a problem together, and you've definitely had your first fight. And regardless (or because) of all of that, your bond is probably stronger than ever. One thing's for sure: There are so many unique ways to celebrate that go beyond dinner at a lavish restaurant. Ultimately, what will make your one-year anniversary most romantic is if it includes special touches that pay homage to your unique bond. It should be a plan that only has the potential to bring you both even closer — and perhaps present the opportunity for some Instagram-worthy photos. But guess what? If you plan the perfect date to celebrate your first anniversary, there's a good chance you'll be so caught up in the moment that you forget to whip out your phone.
Strapped for first anniversary ideas? Here's some inspiration to get you started.