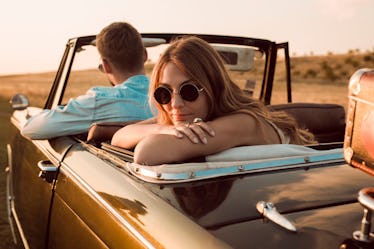 4 Things To Remember Before Going On A Road Trip With Your Partner For The First Time, Because You're In For A Wild Ride
Picture this: You're cruising down the Interstate with the wind in your hair and Khalid bumping out of the speakers as your boo looks away from the road to steal a loving glance. You're heading somewhere you've never been before, and the possibilities are endless. Honestly, is there anything more romantic than going on a road trip with your partner? It's basically the definition of "young, wild, and free." Taking your relationship on the road not only poses an opportunity to make new shared memories while experiencing so many new things together, but it also presents the chance to strengthen your bond. By the time you arrive home, you may be surprised by how much you've learned about each other.
That said, a road trip means spending a lot of time alone together in places you aren't familiar with. That means you'll definitely want to make sure you plan out your trip well and prepare as much as possible. The more details you can hash out ahead of time, the higher the likelihood that your road trip is memorable in the best way possible. The thrill of traveling across states together can certainly bring you and bae closer. But you'll definitely want to keep the following things in mind in order to ensure that your trip goes as smoothly and stress-free as possible.