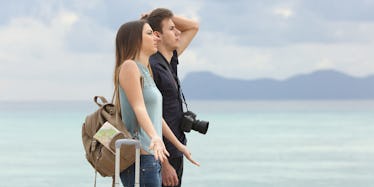 5 Ways Your First Couple's Vacation Will Help You Decide If Your SO Is 'The One'
You've made it. You're finally past being unofficially official, and your friends are finally over the "Will they? Won't they?" hopscotch routine.
The glue permanently binding your phone to your hand has loosened, and suddenly you're less conscious of timing the minutes between each heavily-analyzed-and-carefully-constructed text.
Congratulations, you're now relaxed in your relationship and you've certainly crossed the first finish line. But, don't get too complacent just yet, there are an infinite number of milestones to go.
The first trip together as a couple is a delicately-crafted tightrope. You can effectively poke and prod into your mate's psyche while wading through a potentially daiquiri-induced haze.
While the Instagram persona you've gushed over for the last few months begins to wither, you may discover one or two things about your beau that can range from minor annoyances to full on deal breakers.
While you're navigating your itinerary and your SO, here are the top reasons this trip together can be your best relationship guide book.
1. You'll experience over 24 hours of non-stop boo time.
This is potentially the first time you'll be together, alone, for 24 hours straight.
And whether you're a couple with regular sleepovers or a pair that just springs for a quick after-dinner kiss, this is a whole different ball game.
Many uninterrupted days, side by side, will rip you out of your comfort zone. You'll see each other in your least flattering moments.
Ladies (or gentlemen even), this means you'll have to let him in on your beauty routine, where he'll get a behind-the-scenes look into the making of the finished product.
With uninterrupted time together through exciting activities and day-to-day routines, you'll get a brief taste of life with the other person in it.
2. You'll tackle challenges together.
Whether figuring out transportation, dealing with a lost credit card or asking for directions in a foreign language, your vacation can give you the opportunity to tackle everything life throws your way together.
Overcoming even a minor travel setback is a blessing in disguise, and it gives you an amazing way to bond together. When you're transplanted somewhere new, the unfamiliar setting will be refreshingly non-routine and you'll see how your partner handles unusual, possibly even stressful, situations.
In every experience away from home, both you and your SO will learn how to help each other deal and work toward a solution together.
3. See those true colors.
Whether you like it or not, uninterrupted time means that the glossed over version of yourself will soon disappear, leaving behind our semi-flawed form we all bury until at least six months in.
Those bad character habits tend to slip through. You'll learn what they are, how to deal with them and how to forgive them.
On the other hand, you'll learn some of those not-so-shiny parts about yourself. Maybe you'll even adopt the "my partner can make me a better person" mentality.
4. Balance the control freaks.
When traveling together, a couple's dynamic may shift depending on who's a planner and who's more laid back.
If you're a planner, your strategy will be to take control and finalize that itinerary before you even step on the plane (you know who you are, people).
Ease up a bit and let your SO decide a thing or two so everyone gets the sight-seeing experience they want. Remember, it's OK not to have a plan and fly by the seat of your pants. The best discoveries often come without a plan.
For those laid-back partners, you need to speak up! When there's somewhere you want to go or something you want to do, don't be afraid to challenge your partner's plan.
Succumbing to their every wish isn't realistic long-term. When the vacation glasses are off, you'll need a healthy give and take, and your vacation is the best place to start.
5. Savor the moment.
At the end of the day, a vacation together is about capturing memories you'll take home. Whether it's an inside joke about that guy Barry from the bar or a shared first sushi experience, you'll fill your mental (and Instagram) photo gallery with snapshots of time well spent.
Pull those photos out during your first screaming match back home, the mood will immediately lighten. Everyday life might move a mile a minute, but a fleeting vacation makes you savor the moment and slow down. Not a bad mantra for your life back home.
Uninterrupted time away from home kickstarts the comfort and trust in a relationship, and if you take those lessons you learned back home, you'll grow even closer and build an even stronger foundation.