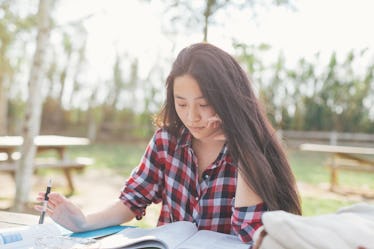 6 Resolutions For Procrastinators Who Always Say They'll Make A List Of Goals Next Week
Who hasn't gone into the new school year with plans to be on top of everything? In the past, maybe you wanted to make a habit of beginning your homework the minute you got out of class, or to start going through multiple drafts of a term paper so you wouldn't have to rush through the night before the deadline. But then, a month into the school year, you were already putting things off again. Look, it happens to best of us, but it's exactly why you should go into the next semester armed with some resolutions for procrastination that will actually stick. The reality is, getting things done — and getting them done in a timely manner — isn't impossible in college; it just takes a little trial and error to figure out what works for you.
When it comes to the issue of procrastination, it's easy to get down on yourself for slipping up and losing track of time, especially if it happens when you're supposed to be working on a big assignment. But according to clinical psychologist Dr. Carla Marie Manly, it's so important to remember that all hope is not lost if you dropped the ball a bit on a paper or on studying for an exam. Chances are, you aren't going to wake up one morning with the time management skills of a robot; after all, college is about learning — not just about new subjects, but also about yourself and how you like to work.
According to Manly, many procrastinators are either so afraid of failure that they're hesitant to even begin their work, or they (often mistakenly) assume they do their best work when they're on a time crunch. Regardless, changing your habits takes time — it's not going to happen overnight. But where there is a will, there is a way to get things done on time. Here are some ways to stay committed to your goals this year and give up procrastination for good.