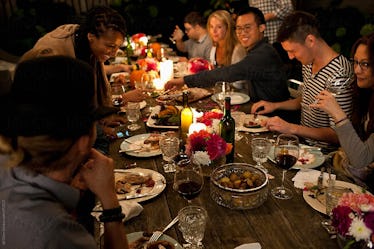 6 Questions To Ask Your Partner's Family On Thanksgiving If You're Meeting Them For The First Time
No matter how self-confident you are, meeting your partner's family for the first time on Thanksgiving can feel intimidating AF. Are you supposed to bring them a gift? What if politics come up at the table (shudder)? And WTF could you and Uncle Gary possibly have to talk about? The good news is, there are certain questions to ask your partner's family on Thanksgiving that can make the whole situation far less awkward, and better yet, bring you closer to their inner circle.
First thing's first: while it may feel a tad overwhelming, there are plenty of perks to meeting your partner's family on Thanksgiving. Sure, you may be faced with more extended family than you would on any other occasion, but the holiday occasion will distract from your presence a bit and take some of the pressure off, and people are generally in an upbeat, celebratory mood, which is definitely to your advantage. The key to winning them over could be as simple as asking the right questions. After all, this is an opportunity to learn more about your partner's family members and let them learn a little more about you. And asking questions shows that you're interested them and you care about where your SO came from, which can only boost your image in their eyes.
Now, the only question is — well, which questions to ask. As a general rule, you want to ask things that elicit detailed responses and unlock opportunities for longer conversations (i.e., no yes-no questions).
Still stumped? Here are some questions to keep in your back pocket on Thanksgiving day.