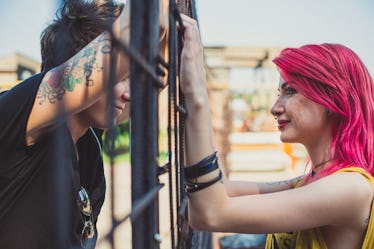 The 6 People Everyone Dates in Their Mid 20s Because TBH, It's A Confusing Time
Dating in your 20s is a minefield, y'all. Some people are seeking to cuff someone up and settle down, some are just trying to get laid, and others — well, they just don't know what they want. Amidst all the unpredictability, one thing's for sure: There are certain types of people everyone dates in their mid 20s. It dawns on you while gabbing with friends over a bottle of wine as you realize that barista your bestie it talking about sounds eerily familiar. Or perhaps while watching Girls, you can't help but think that Adam reminds you of a guy you had a fling with a few summers back. Or you overhear a girl at the bar complaining about her stoner BF who's driving her up the wall and you think: "you too?"
Undoubtedly, your 20s are a confusing, albeit exciting, time. You're starting to figure out what you want to do with your life. You're finally making enough money to pay for your cell phone bill, fancy cheese from the farmer's market, and some Thirsty Thursday after-work beers with co-workers. You've got youth on your side, and in a way, it truly does feel like the world is your oyster. When it comes to dating, there will surely be a few pitfalls along your journey. Fret not: Many of us have found ourselves in relationships (or non-relationships) with these characters. If you've crossed to the latter half of your 20s, the following people will probably begin to sound familiar.