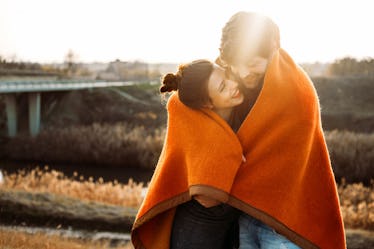 If You're Still Single AF & Need A Good Laugh, Here Are 6 Memes About Cuffing Season
Look, I get it: Time got away from you. Between planning your epic Halloween costume, catching up with your hometown besties over Thanksgiving, and carefully crafting your Christmas wishlist, you kind of got distracted, and now you're still single AF. But cuffing season does go on without you, and ICYMI — it's in full effect. Just look to the many memes about cuffing season for proof that this phenomenon is here to stay.
First thing's first. If you don't know what cuffing season is, it refers to the fact that the most popular time to couple up tends to be around October. Go ahead, scan your social media feeds — it's a safe bet that Instagram has been peppered with pics of smiling couples picking out pumpkins, attending swanky soirees, ice skating, and cozying up by the fireplace with a couple of hot toddies. And it's no surprise, either. Having a boo between November and February means you have a date for the office holiday shindig, someone to smooch while ringing in the New Year, and a snuggle partner for those frigid Friday nights when you can't be bothered with putting real pants on and going out.
Basically, cuffing season is impossible to ignore. So regardless of whether you're still single, just started seeing someone, or are already in a full-on serious relationship, these super relatable memes should sound familiar.