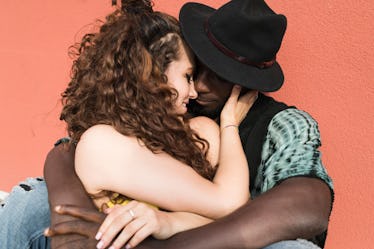 9 Tweets About Cuffing Season That Are Painfully Relatable If You Wanna Couple Up
If you're single, these days you might find a few extra DMs than usual in your inbox, or have a few more matches than normal on your dating apps. Yes, it's because you're amazing, but it also could be due to cuffing season. Whether you're embracing cuffing season or avoiding it like the plague, it's here — so I've rounded up a few tweets about cuffing season 2018 that might make you cringe, think "ugh, same," or perhaps even smile.
It's an interesting phenomenon that colder weather makes people want to couple up, cozy up, and stay warm until the spring. Sure, it's great to have someone to be your plus one for the upcoming holiday parties, it's always great to get a gift from a significant other over Christmas, and most likely it's a relief to have someone to smooch at midnight on New Year's Eve.
Although cuffing season ends around the springtime, with many calling Valentine's Day the official end marker, there's always a chance that the person you cuffed could be in it for the long haul. But if not, at the very least perhaps you'll have some inspiration for a relatable and enjoyable tweet about your #cuffingseason experience. Enjoy!