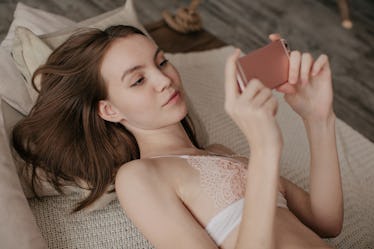 6 High-Tech Sex Toys That Are Simply Really Freaking Cool
Technology truly is amazing. You can send money across the world with a click, feed your pet a treat while you're not home, and get down with some seriously high-tech sex toys. Whether you're a newbie or a total pro when it comes to including sex toys in solo sex acts or in partner play, there's a high-tech toy for you.
What constitutes a high-tech sex toy? While many sex toys are battery-operated or rechargeable via USB port, these toys function by connecting to an app on your smart phone or operating via remote control. This exciting twist could enhance your sexual connection with a partner, as they can be the ones in charge of the app or the remote. Many of these toys can also connect and be controlled by someone on the other side of the world. (Calling all babes in long-distance relationships!) Not only do most apps or remote controls turn the device on and off, but they can also control speed, rhythm, and intensity.
Incorporating sex toys into your bedroom repertoire could enhance your sexual experience, increase intimacy with your partner, or simply shake things up. Certain toys are perfect for specific locations like the shower, when you're trying to keep your lovin' on the DL, or when you're sharing the love with a partner. If you're all about setting the mood, there's even a vibrator that will sync up to the beat of your hanky panky playlist. Read on to check out some of the most high-tech gadgets out there.
No matter your comfort level or budget, there's a sex toy out there that'll do the trick for you. When considering your budget, know that most apps that connect with specific toys are free, which is a nice little cherry on top. While I know most advancements in technology are in pursuit of, say, going to Mars, I have to give some love to whatever brilliant mind asked, "Why don't we have vibrators that vibe to the beat of a song?" Thank you, dear scientist. We appreciate you.