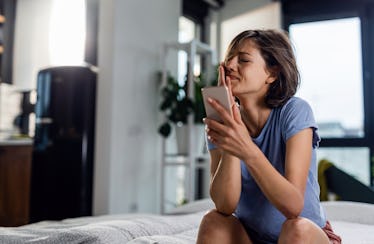 6 Heartbreaking & True Stories About People Cheating In Relationships
Shutterstock
What's that old saying? Cheaters never win, and winners never cheat? Though every relationship is different, there's no denying that navigating infidelity can be totally painful. In fact, these heartbreaking and true stories about people cheating in relationships will have you reaching for the tissues.
Of course, no one knows your relationship better than you do. And if you and your boo can work through cheating and move forward with trust and open communication, you know what feels right for you. Of course, if you never want to see your partner again or if cheating is an absolute deal-breaker, it's always OK to say goodbye. There's no one way to navigate your romantic relationship, and you get to call the shots when it comes to how you and your boo do your thing.
At any stage of a relationship, hearing stories from others that have been through similar experiences can be incredibly healing. Whether you want to feel less alone or need some advice, talking to people who have been through the emotional labyrinth of cheating can help you carve your own way out.
Here are six true stories about cheating in relationships to help you figure just what it is you're feeling.