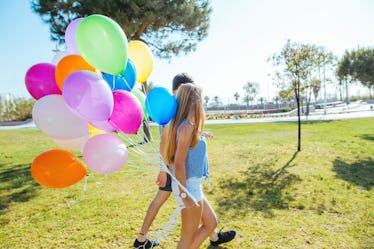 6 Fun & Unique Ways To Celebrate Your Partner's Birthday For The First Time, Together
If your partner's birthday is approaching, you may be thinking about what activity to plan, what you should get them, and how to craft the perfect birthday shoutout for them on social media. If you've been together for a while, then you're probably a pro at planning their birthday festivities by now. But if your relationship is relatively new and you're celebrating their birthday together for the first time, chances are you're mildly stressed about what to do for them. Well, these fun ways to celebrate your partner's birthday can give you an idea of what to plan if you want to make your first birthday together a memorable one.
It's important to note, however, that whatever you plan for your partner's birthday, they will love. You don't need to go over the top to plan something that's perfect (or your idea of "perfect") because you feel like you have to. Listen to your partner in the weeks leading up to their birthday. Pay attention to what they say they want to do (or not do) and put it into action. If they don't mention anything in particular, then consider one of these six fun ways to celebrate their first birthday, together.