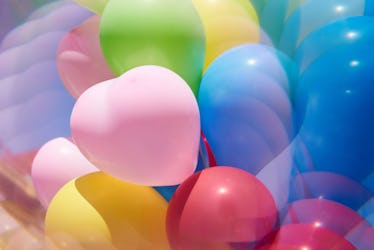 10 Instagram Captions To Use On Your Partner's Birthday That'll Make Them Melt
They say it's bae's birthday, da-na-na-na-na-na. It's my birthday too, yeah. (Actually, no it's not, those are Beatles lyrics with a certain millennial term added for effect.) But if you are planning on posting an Instagram for your partner's birthday this year, then I wish I was your partner and it was my birthday. I love a good birthday shoutout from a friend or lover on social media. It gives me the warm-fuzzies. Instagram captions for your partner's birthday are important — they're a public declaration of your appreciation of your partner, no pressure!
In all seriousness, there is no pressure to pick the "perfect" wording. There is no such thing. Publicly celebrating your partner on Instagram is a really thoughtful gesture, and that should be enough. Instagram should be a place where we all give fewer effs, and anyway, birthdays are rather arbitrary — they are quite literally just the anniversary of the day you were born. Still, having the right caption make you look clever and your partner feel appreciated.
So what's the recipe to whipping up a great birthday caption for someone you love more than just as a friend? Ingredient one: be as funny as you can be. (Because when things get too mushy on a public platform, everyone gets uncomfortable.) Ingredient two: show some appreciation for the person who is the reason you're not single. Oh, and make sure not to take the whole thing too seriously, because I've got some inspiration for bae's Insta-celebration.