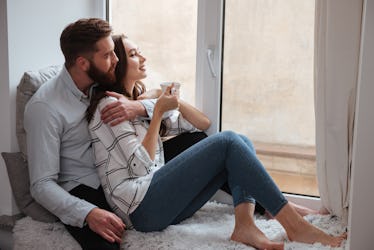 7 Creative Things To Do For Your BF's Birthday In The Fall When You're Broke
There's something extra cozy and warm about celebrating a birthday that lands in the fall. Multiply that feeling by 10 if your boyfriend is the main man of the hour blowing out the candles. As convenient as the season and the day are, financially, it's not always the best time to go all out for your bae. Finding things to do for your boyfriend's birthday in the fall is full of possibilities that are affordable and memorable.
Your guy should understand that money doesn't grow on trees, and if it did, you two would tag team a lumberjack company together. For now, it's the thought that counts. I mean, that's how it should always be, but for argument's sake, let's bank everything on the idea that your effort is a priceless currency.
If you know your guy well enough, you should have an idea of what actually brings him joy without breaking the bank. Keeping those things in mind will incredibly help you on your journey to not-so-costly gift giving. Saving money on buying gifts doesn't mean you don't care — it means you're adulting and practicing the art of delegation. Each boyfriend is different, so you really have to flex your creativity muscle. There's no right way to do this, but some options are pretty simple and can be tailored to suit your one-of-a-kind boyfriend.