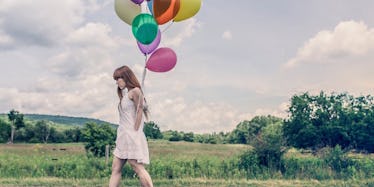 5 Ways To Have The Time Of Your Life On Your Birthday When You're Broke AF
There's nothing quite like waking up on the morning of your birthday.
The sun's shining (at least, it sure is in your head), you feel prepared AF to take on the day, and you know you have an entire afternoon full of awesome birthday wishes and celebrations to look forward to.
That is, until you remember... you're broke.
How's a girl supposed to have the time of her life celebrating when she can barely afford her rent?
But, all hope is not lost. You can most certainly salvage a day full of fun, good memories, and fabulous times revolving exclusively around you.
Here are five ways to save your birthday when you're broke AF.
1. Throw A Classy BYOB, Potluck Birthday Bash
If you're tight on the funds, throw a BYOB and potluck party at your place.
Set up a Spotify playlist of your favorite songs, pull out last year's decorations, and it's time to get this party started.
People will bring a lot more alcohol and food than they need to, so you'll be set for the whole night.
You'll have your friends, free booze, and a night you'll (hopefully) remember.
2. Have A Girl's Spa Night In
Invite a few of your closest friends over for a spa and wine night.
Throw together some snacks from what you've got in your cupboard, get your favorite movies out, and get ready for a chill evening with your people.
Do each other's nails, and sip on your wine while you're enjoying the chick flicks.
3. Look For Some Free Entertainment
Many towns have fun, free entertainment options, especially on the weekend. Grab your besties and head to a concert at your local park, or an improv show at a nearby theater.
Bake some delicious treats at home to bring, or stop by a bakery for a mini birthday splurge if you've got a few bucks.
4. Take Advantage Of All The Birthday Specials
Spend your day running around the city by yourself or with friends seeing what birthday freebies you can take advantage of.
Get yourself a birthday drink from Starbucks, a dessert from your favorite restaurant, and a drink from that hole-in-the-wall bar down the street.
You'll be surprised at how much fun you can have with no money at all.
5. Volunteer It Up
Convince some of your friends to spend the day volunteering with you, whether you help out at a Soup Kitchen, or work a local event.
This will truly feel so fulfilling, especially with your besties by your side. You'll experience the irreplaceable joy of helping someone else out... and you certainly can't put a price tag on that.
Don't let the nightmare of being broke AF ruin your special day. Get out there, get creative, and you'll be surprised just how much fun you can have.