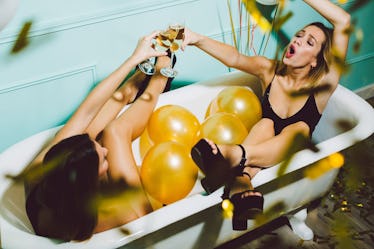 How You Should Celebrate Your Birthday In The New Year, According To Your Zodiac Sign
Who do we think we are? It's not even 2019, and we're already planning our birthday festivities? Ha! Yep, you guessed it, stargazers. I'm about to reveal how you should celebrate your birthday in 2019 according to your zodiac sign, because why the hell not? I mean, it's a new year, and there's a new you on the horizon. Besides, there's nothing more magical than a solar return. Think about it: Every year on your birthday, the sun returns to the exact same place it was on the day you were born. Mind you, the sun is our biggest source of energy, so this always comes with a fresh new beginning.
Personally, I love to read my solar return chart every year around my birthday. It's so exciting to see what the cosmos have in store, and the best part is, your rising sign is different every year, which is another reason why each year comes with a different learning experience. Now, I don't like to drive myself crazy either, but it never hurts to look. In the end, astrology is a tool, and it's up to us to determine the messaging, and symbolism. To each is own, and that's what makes it so unique and interesting.
Anyway, where was I? Oh, right... Here's what the stars have to say about your 2019 birthday festivities:
Aries: Have A Romantic Dinner With Your S.O.
There's a lot of romantic and collaborative energy around your birthday season this year, Aries. The stars will be in their very best behavior, and you will be feeling smitten.
Taurus: Go To A Yoga Retreat
You will be in the midst of powerful transformation, that come with significant changes, Taurus. If I were you, I would make it a point to sign up for something that will bring you peace, and clarity.
Gemini: Go Somewhere Where You Can Mingle
Hate to break it to you, Gemini, but your wandering eye will be at it again. Single Geminis will get their flirting on, while coupled Geminis suffer from crazy FOMO.
Cancer: Dance The Night Away
Your 2019 birthday will be EPIC, Cancer. You will be thriving and as confident as ever during this time. No, it's not too early to start thinking about wardrobe.
Leo: Go To A Karaoke Bar
Sing it, Leo babe. The cosmos are totally working in your favor during your birthday season this year. You will be in desperate need of love, attention, and all types of affection!
Virgo: Go Somewhere Witchy
The season of the harvest is never not magical, right Virgo? The stars are aligning on your birthday this year, and I say you get your hands dirty. In the best way, of course. Time to invoke your ancestors!
Libra: Go To A Masquerade Ball
Oh, please. You love these shenanigans! Besides, there's always an eerie feeling around your birthday, and with your ruling planet in Scorpio, I say you pull a Persephone, and pretend the masquerade ball is the underworld.
Scorpio: Watch Some Ghost Adventures Series
This or Dead Files, right? Listen here, Scorpio: fellow Scorpio Amy Allan can vouch for your lone-wolf vibes, and obsession with the occult. Stop trying to pretend like you're not a vampire.
Sagittarius: Take A Road Trip
Dear Sagittarius: It doesn't matter whether it's spring break or your birthday, you can't stand the thought of being somewhere to long. Pack your bags and GTFO. Just drive.
Capricorn: Go To The Opera
So swanky, Capricorn! You can't deny the facts, and yes, the opera is all you. With the sun traveling through your vintage and tradition-loving sign, I say you make it extra classy this year.
Aquarius: Go To A Technology Conference
Oh, Aquarius. Your birthday season also happens to be the season of technology conferences, which is oh-so-appropriate for your sign. You can't deny how much you love science, right?
Pisces: Get Your Diver Certification
Little Mermaid who? The ocean is your happy place, and the cosmos bring the magical Neptune vibes every year around your birthday. Stop thinking about it so much, and get your scuba diving license!