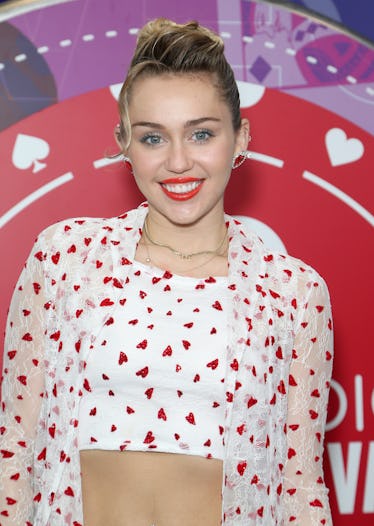 6 Things You Never Knew About Miley Cyrus That Will Make You Love Her Even More
Gabe Ginsberg/Getty Images Entertainment/Getty Images
Miley Cyrus had a huge year in 2017. She released her first album since 2015, and Younger Now brought a whole new sound into the singer's discography. The 25-year-old star has basically revamped her entire style of music, fashion, the works, but she's still the same Miley we've known and loved since her Hannah Montana days. Even though Cyrus has been famous in her own right for over a decade now, there are lots of fun facts about Miley Cyrus some of you might not have picked up on. But let's start by talking about the current Miley.
On Younger Now, both the song and the album, Cyrus sings about going through huge life changes, growing up, and growing into who you are. She also sings a lot about her relationship with Liam Hemsworth, but that's only one part of the larger picture this album is focused on. In the titular song "Younger Now," which is also the first song on the album, Cyrus addresses her last two albums head-on with the lyrics, "It feels like I just woke up, like all this time I've been asleep. Even though it's not who I am, I'm not afraid of who I used to be." That "used to be" line is a pretty clear reference to her Bangerz and Miley Cyrus & Her Dead Petz eras. While Bangerz was a super successful album that just went double platinum, Cyrus was noticeably different then, and she addressed all of that in "Younger Now." The chorus talks about embracing change and accepting the fact that we're all going to be completely different people throughout every stage of our lives. She sings, "No one stays the same. You know what goes up must come down. Change is a thing you can count on. I feel so much younger now." It's safe to say Miley Cyrus has revealed a lot about her life through her music over the years, but here are some fun facts about Miley Cyrus you may not have known:
1. Her birth name wasn't Miley Cyrus.
Nope, her given name at birth was Destiny Hope Cyrus because her parents, Billy Ray and Tish Cyrus, thought it was her destiny to bring hope. At a young age, she got the nickname "Smiley," that transformed into the name Miley, and she ended up being referred to as Miley more than Destiny Hope, so at 16, she legally changed her name to Miley Ray Cyrus.
Billy Ray talked about the inspiration behind Miley's birth name in a 2011 interview with Piers Morgan. When asked if he would ever try to get Miley to stop pursuing fame, he said, "This was Miley's dream. This was her - I believe to touch people's lives. Through her music and her life. I still believe that." He continued,
You know, her name was originally Destiny Hope, I had given her the name before she was born because I had a vision. I felt it was her destiny to bring hope to the world. When I see her selling out arenas around the world or on her TV show, making people laugh, bringing families into the living room together, we always, you know, try to put positive messages in each episode if we could. And, you know, I do think that she - this is her purpose - her path.
2. Her first acting gig wasn't on Hannah Montana, it was on her dad's show Doc.
The Cyrus family lived in Toronto, Canada while the show filmed, and she ended up appearing in a handful of episodes of the series, which ran from 2001 to 2004.
3. Nick Jonas wasn't her first famous boyfriend.
It's true, guys! Teen Wolf's Tyler Posey was actually her first celebrity boyfriend. Posey had one of his first acting gigs on Doc, and Cyrus would stop by the set a bunch either to hang out with Billy Ray Cyrus or act in some scenes herself. Posey talked about his and Cyrus' childhood romance back in 2015. He revealed they dated for two years when they were around 9 years old and that Cyrus was his first kiss.
Posey told Entertainment Tonight, "I was basically the only kid on set. She would come on set every now and then and we became really good friends. We were both goofy and she was really loud, sweet, and funny — just a really cool kid." He continued, "We were so damn young… I would get excited when we would hold hands ... She was herself at 7 years old. She knew who she was. I never met anyone like that at my age." The more you know!
4. She was in Guardians of the Galaxy Vol. 2, but blink and you could miss it.
Cyrus had the tiniest cameo in Guardians of the Galaxy Vol. 2, but it wasn't in the actual film. Nope, she appeared in one of the film's five post-credit scenes. And by appeared, I mean her voice made an appearance. Miley Cyrus voiced the robot Mainframe in Guardians of the Galaxy Vol. 2. It was the quickest cameo ever (all she says is "I missed you guys so much!"), but hey, still counts!
5. Bangerz recently went two times platinum.
That means the album has sold millions upon millions of copies. Even though she made it perfectly clear on Younger Now that she's a changed person since Bangerz was released, she was still beaming with pride when Bangerz went double platinum in February 2018. The star posted a bunch of throwback photos from the Bangerz era to commemorate the milestone, saying in an Instagram caption, "We Cant Stop off #Bangerz went 5x Platinum today! Bangerz & Adore you 2X & Do my thang & FU Gold! Thanks @frenchmontana for jumpin on!"
6. She's not going on tour for Younger Now because of her pet pigs.
That's a sentence I never thought I'd write, but it's true. Cyrus opted out of going on a world tour with Younger Now because she has so many pets to take care of at home in Malibu. In an October interview with Howard Stern, she said she wasn't going on tour because she needed to be home to take care of her pigs. "Literally the only reason I'm not touring is because of those f*cking pigs," the singer said. "That's how much I love those pigs." Oh, Miley. I'm sure those pigs love you too.