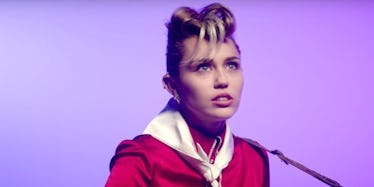 Miley Cyrus' "Younger Now" Music Video Is Basically "Hoedown Throwdown" Part 2
YouTube
Miley Cyrus dropped her new single and video "Younger Now," and the "Younger Now" music video will remind you of Elvis Presley, Dolly Parton, and the "Hoedown Throwdown" from The Hannah Montana Movie all in one. Yeah, Miley Cyrus did that. The song itself is just as introspective and thoughtful as her previous singles from the Younger Now album, "Malibu" and "Inspired," and follows through on the promise that this album would be much more about love and unity than anything else.
Cyrus gets back to her country/western music roots while still keeping that sonically broad vibe we all love nowadays, and it makes for a great new song for the singer. You can tell she's turning over a new leaf and wants to show us she's grown from her Bangerz and Miley Cyrus and Her Dead Petz time.
She also released the track list and cover art for Younger Now, and it revealed the only artist featured on the album is her godmother, Dolly Parton. The album is set to release Friday, Sept. 29. "Younger Now" is the first track on the album, and Cyrus doesn't take that lightly, so she made the first lines in the song powerful ones. The beginning of the "Younger Now" lyrics go,
Verse 1
Feels like I just woke up Like all this time I've been asleep Even though it's not who I am I'm not afraid of who I used to be
Chorus
No one stays the same (oh, oh) You know what goes up must come down (oh, oh) Change is a thing you can count on (oh, oh) I feel so much younger now (oh, oh)
But guys... the best part of this entire music video is the fact that Cyrus is dressed as a cross between Elvis Presley and Dolly Parton the whole time, and there's even a hoedown at the end. I'm not kidding, it's that amazing. The video features Cyrus dancing/hanging out with/at one point kissing a group of elderly people who are looking as FABULOUS as they ever could be in their country gear.
It also features some adorable kids and a puppet that looks a lot like Cyrus. (Elvis once did a puppet show in his film G.I. Blues, so that's definitely a homage to the king.) At the end of the video, the group of grannys and grandpas get together to dance with Cyrus and it's literally a follow-up to the "Hoedown Throwdown" and no one can tell me otherwise.
Here are some of the highlights from the "Younger Now" music video:
We've got Miley looking like an androgynous hero.
Miley and her puppet friend, who I'm assuming is being controlled by Liam Hemsworth based off nothing other than my own wants and needs.
Miley and her motley crew lookin' FRESH AS HELL.
Is that Dolly Parton?!
Look at this country queen on her country throne (float).
But most importantly, look at the pure joy on this child's face.
IT'S HIS TIME TO SHINE, AND HE KNOWS IT.
Carnival time!!
There are even mimes! This video has and is everything. (Also, where can I buy that jumpsuit?)
"Do the hoedown," "THROWDOWN."
"SHAKE IT OUT, HEAD TO TOE, THROW IT ALL TOGETHER THAT'S HOW WE ROLL."
Thank you for taking us on this journey, Miley. You're right, I do feel younger now!