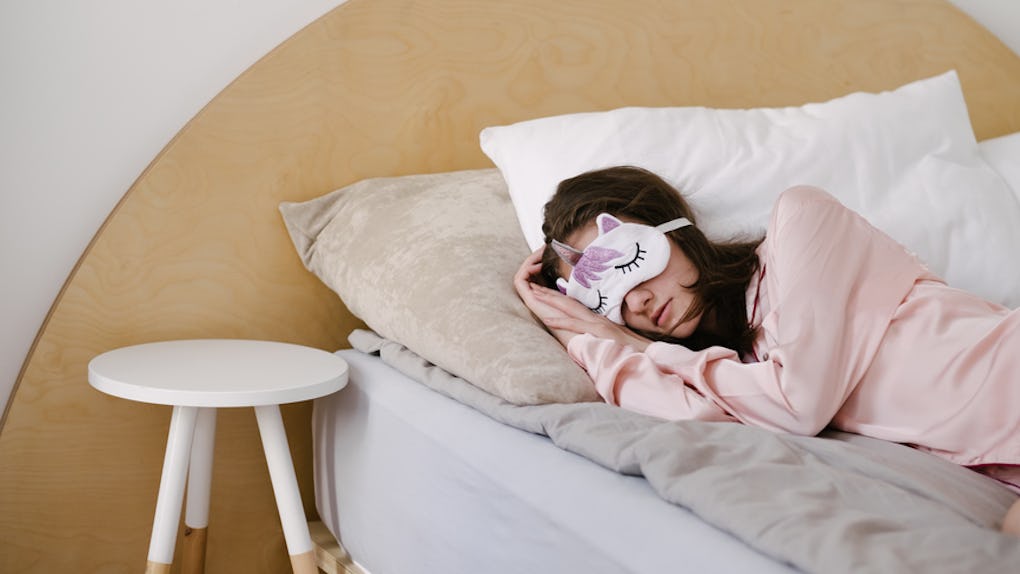 Evil Pixels Photography/Stocksy
6 Easy Ways To Look More Awake In The Morning When You Feel Exhausted On The Inside
Some mornings are harder than others. For instance, sometimes you roll out of bed, you look in the mirror, and your exhaustion is just written all over your face — dark circles, pillow creases, and all. On those mornings, perhaps the impulse is to crawl back into bed for a few more hours, but for most of us, that's just not possible. Technically, yeah, this is what products like concealer are made for, but sometimes, you just want to find other ways to look more awake in the morning without having to cake on a bunch of makeup that your skin's just going to reject, anyway.
Now, I know some of you might not feel totally comfortable leaving the house sans makeup, especially after a sleepless night. According to a 2012 survey conducted by The Renfrew Center Foundation for Eating Disorders, "nearly half of all women have negative feelings about their image when not wearing makeup." Considering the fact that, per the survey results, most women start wearing makeup around age 13, these numbers definitely make sense. It's not easy to separate yourself from something that's been part of your life for a whole decade.
And, look, at the end of the day, whatever you do to truly feel good in your own skin is freakin' rad. Whether you're all about your contours, a blindingly beautiful highlight, or just Chapstick and a splash of water, it's all good. But if you happen to be someone who doesn't like or want to wear lots of makeup every single day, or even if you simply want to experiment with some days on, some days off, there are plenty of things you can do to get all dewy-looking, refreshed, and ready to greet the day — even when you're really feeling the fatigue. Here are a few easy, more natural ways to look more awake after a night of tossing and turning.
1. Hydrate, Hydrate, Hydrate
Water, water, water — it's always the answer, isn't it? According to international yoga specialist and health coach, Claire Grieve, hydrating your body is one of the best things you can do for yourself in the morning, especially if you want to look all perky and glowy.
"Drinking a large glass of water in the morning can help your skin look hydrated and fresh," Grieve tells Elite Daily. "Then drink a smoothie, which just offers a jolt of nutrients to your body and will keep you looking and feeling refreshed."
2. Get You A Face Wash That Benefits Your Skin Morning AND Night
Dr. Oracle A-Thera Cleansing Foam, $23, Soko Glam
Regardless of whether or not you choose to put on makeup before you leave the house, Charlotte Cho, a skincare expert, esthetician, and co-founder of Soko Glam, highly recommends using a double-duty cleansing foam both in the morning and at night.
"In the p.m., it gently cleanses the oil-based impurities and pollutants that can clog pores and cause premature aging," Cho tells Elite Daily. "In the a.m., it cleanses away products that do not get absorbed and the oil you produce while you're sleeping."
3. Give Your Skin A Good Spritz
MISSHA First Treatment Essence Mist, $35, Soko Glam
Cho suggests using a nice facial mist during your morning skincare routine, and she says it doesn't hurt to bring this bad boy along with you during the day, as well.
Spritzing your face in the morning and every few hours, she tells Elite Daily, will keep you feeling refreshed, and it'll improve the brightness and elasticity of your skin.
4. Dab On Just A Touch Of Eye Cream
Etude House Moistfull Collagen Eye Cream, $19, Walmart
According to Diane Elizabeth of Skin Care Ox, "our eyes play a huge factor in how tired or awake we look in the morning." She tells Elite Daily that "lack of sleep, poor circulation, or just plain dryness can cause our eyes to look dark and puffy in the morning." To combat that, she says "using a moisturizing and brightening eye cream at night can make a huge difference."
Cho recommends applying this collagen eye cream from Soko Glam in both the morning and in the evening. "That delicate eye area holds so much expression that you need to moisturize to give that area ample elasticity to emote!" she says.
6. Wear Something That Makes You Feel Incredible
According to image consultant and fashion designer Eva Barrios, you can easily look more awake than you feel by wearing brighter colors, as well as some chunky, eye-catching jewelry. "This distracts and excites the eye," Barrios tells Elite Daily, so people won't even know how sleep-deprived you feel on the inside.
With these helpful morning hacks, no one will know you spent the whole night counting sheep (or trying to, at least).