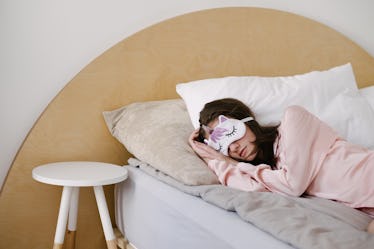 Here's How To Look More Awake In The Morning Without Putting On A Pound Of Makeup
Some mornings are harder than others. For instance, sometimes you roll out of bed, you look in the mirror, and your exhaustion is just written all over your face — dark circles, pillow creases, and all. On those mornings, perhaps the impulse is to crawl back into bed for a few more hours, but for most of us, that's just not possible. Technically, yeah, this is what products like concealer are made for, but sometimes, you just want to find other ways to look more awake in the morning without having to cake on a bunch of makeup that your skin's just going to reject, anyway.
Now, I know some of you might not feel totally comfortable leaving the house sans makeup, especially after a sleepless night. According to a 2012 survey conducted by The Renfrew Center Foundation for Eating Disorders, "nearly half of all women have negative feelings about their image when not wearing makeup." Considering the fact that, per the survey results, most women start wearing makeup around age 13, these numbers definitely make sense. It's not easy to separate yourself from something that's been part of your life for a whole decade.
And, look, at the end of the day, whatever you do to truly feel good in your own skin is freakin' rad. Whether you're all about your contours, a blindingly beautiful highlight, or just Chapstick and a splash of water, it's all good. But if you happen to be someone who doesn't like or want to wear lots of makeup every single day, or even if you simply want to experiment with some days on, some days off, there are plenty of things you can do to get all dewy-looking, refreshed, and ready to greet the day — even when you're really feeling the fatigue. Here are a few easy, more natural ways to look more awake after a night of tossing and turning.