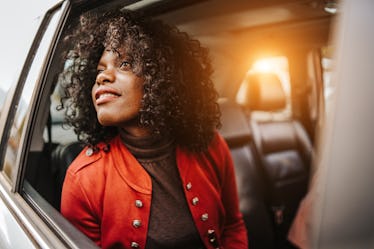 These Drive-Thru Fall Experiences Will Bring The Gourd Times To You
bojanstory/E+/Getty Images
The start of October makes you want to zoom from one fall activity to the next. But, in between pulling into the farmer's market and parking your car next to the candy apple stand at the local orchard, you'll want to tap on the breaks and check out the drive-thru fall 2020 experiences near your city or town. Each will bring the best parts of autumn to you, and ensure you have gourd times this season without even opening up your car door.
Note that there's a difference between a drive-in and drive-thru. Drive-ins are where you and your partner may go on a date night this fall when you want to watch a Halloween-inspired movie and snuggle in your car while eating popcorn. Typically at a drive-in theater, you'll be coached to drive your car into a wide lot, where a giant screen is set up. From there, you'll be asked to turn off your headlights and roll up your windows so the entire crowd can enjoy the feature film.
Drive-thrus are a little different, because you're actually driving your car through a corn maze or along a traditional hayride route. At some of the experiences listed below, there are shows involved, and performers will approach your car to act out a spooky (yet spectacular) scene. After you read the details, decide which experience best fits your fall #mood.