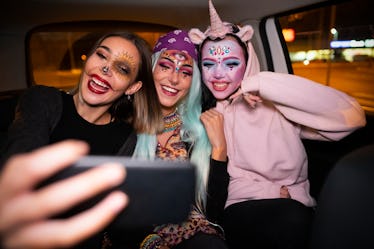 These Drive-Thru Halloween Experiences Will Keep You On Your Toes
SrdjanPav/E+/Getty Images
Whether you get spooked easily or live for horror films like The Exorcist or Bird Box, you'll pull out of these drive-thru Halloween 2020 experiences feeling like you're on the tip of your toes. While you drive down the familiar roads of your town or city, the hairs on the back of your neck will perk up and a shiver might even rush down your spine. From the passenger seat of your roomie's or partner's car, you'll be recalling each ghost or goblin you saw moments ago while looking over your shoulder to check for more.
These drive-thru experiences are immersive and feature a ton of epic visual effects, props, and even performers to submerge you in your favorite holiday. Some are based off of horror movies, so you may peep a character you recognize and be able to guess what's coming next on the mile-long road. Others are an elevated and socially-distanced version of a haunted house, or are based off of series like Stranger Things so you're able to experience fantasy locations like the Upside Down and Starcourt Mall from the safety of your car.
To experience them, you simply need to head to the individual websites or event pages for each Halloween-themed drive-thru, and grab a ticket for a specific date and time. Afterwards, you might want to plan a costume to wear while sitting in your car. Maybe you'll dress up like Eleven, a witch, or a unicorn. Either way, prepare to get spooked.