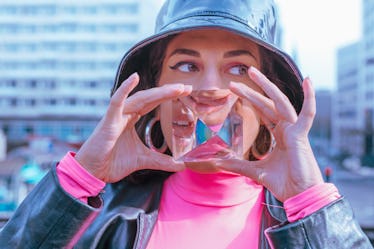 6 Crystals To Keep Close After A Breakup For Good Juju
An Adele song plays as you archive all the pictures of you and your ex and change all the captions that mentioned them. Your freezer is stocked with all your favorite ice cream flavors, and your whole apartment smells like sage. You didn't think it would end this way. Heck, you didn't think it would end at all. But here you are: newly single and contemplating a major hair change. And while you would undoubtedly look amazing with purple streaks, you may want to grab these crystals to use after a breakup before trying to cut your own bangs.
There's no way around it: breakups can suck. Opening your heart to someone takes courage and accountability, and realizing that you and your boo weren't on the same page can be completely disorienting. While crystals can't fix everything, it can be helpful and inspiring to learn about the healing properties of these powerful gems. Whether you surround yourself in Amethyst for clarity or carry a little Labradorite for balance, consulting your crystals may help you process the pain of your breakup.
And if you're looking for some healing and strength, here are six crystals to use after calling it quits with someone.