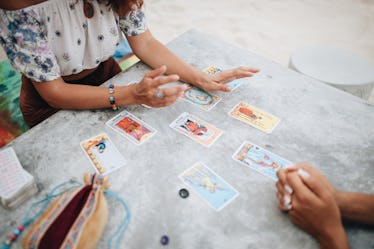 4 Tarot Cards That Might Mean A Breakup Is Coming, So Prepare Yourself
Though the digital era has made ordering Thai food easier than ever, there's something to be said for sticking with tradition. Reading Tarot cards, for instance, is a spiritual and social practice dating back to the mid-15th century. Although — IMHO — the cards can help all the time, knowing which tarot cards mean a breakup might be coming can help you navigate conflict and find strength during times of relationship transitions. Interacting with Tarot cards can help you set intentions for your future and understand current situations from new perspectives. They're a wonderful tool in navigating life's transitions, providing solace and insight.
IYDK, a deck of Tarot is made up of 78 cards. While there are a ton of different cards, the two main categories are the 22 Major Arcana cards and the 56 Minor Arcana cards. All the cards symbolize different aspects of life, like transitions you may be going through and the elements — wands for fire, cups for water, swords for air, and pentacles for earth.
Although it may seem overwhelming, pulling these cards can provide you with clarity or context — guiding you to see things from new perspectives. If a relationship is reaching its end, you may see these four cards.