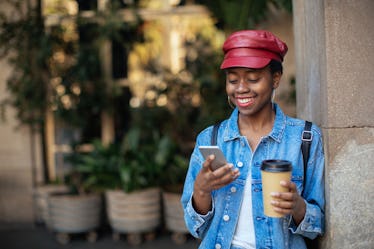 If You're Excited For A First Date, Send Them One Of These 6 Texts To Let Them Know
Bonninstudio, Stocksy
Going on a first date can make you feel all the feels — excitement, anxiety, curiosity, or maybe even regret for saying yes in the first place. But if you're excited and you want to get a little flirty, these clever texts to send before a first date can help show your date how much you're looking forward to hanging out with them.
Whoever initiated the date should probably check in with the other person to make sure they know when, where, and all those logistics before the actual date. But logistics aside, it's not a bad idea for you to send a cute, flirty text to the person you're meeting before your first date. It's a great way to lessen nerves beforehand, on both ends. Your text to them may help them feel less stressed because you've broken the ice a bit.
No matter the date — whether you're getting morning coffee, or evening drinks — what matters is that you're looking forward to seeing them, and you want them to know. So sit back, relax, and check out these clever text ideas to send before a first date. First dates can be stressful, but reaching out to the person is a great way to ease the tension.