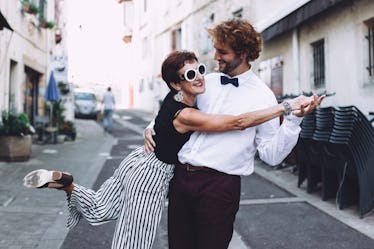 11 First Date Ideas That Guys Actually Want To Do, Suggested By Real Guys
It's almost impossible for me to imagine an ideal first date without having a partner in mind first. Sure, we could probably just do the quintessential drinks date but I like the idea of planning an outing based entirely on our mutual interests. So basically, I'm very interested in first date ideas guys actually want to do. It's important to me because I'm a sucker for a good love story that starts with a sweet first date.
A few years ago, I went on a first date with the guy who would become my first serious boyfriend. We saw a movie called Our Family Wedding, which was perfect because it was about an interracial couple whose families didn't approve of their relationship — just like ours. Until now, I'd never shared with anyone what our first date was like because I loved how personal the whole thing felt. It was the perfect start to our story, I thought.
Although we made plans to go to dinner and a movie, we didn't settle on a movie beforehand. We spontaneously chose that movie because it was about to start just as we got to the theater. We had no idea how much we would end up relating to it, which made it that much more memorable to me.
Happy accidents aside, some guys really do have an idea of what an ideal first date should look like. I spoke with 11 guys about it and here's what they had to say.
This guy has a contingency plan and I'm into it.
Ideal first date is definitely quiet-ish bar. Alcohol helps with the first date jitters. You or the other person has multiple "exits" via the end of a round of drinks (in case of a bad date).
- Saul, 25
This guy's not afraid to go with the flow. Same.
Totally depends on the girl and how we met. But, I'm still a purist who likes to do dinner. If we're really hitting it off, then I'm all for doing something else after. Drove to the beach once with a girl after dinner, laid out a blanket and we just kept talking for a while. It was really nice.
- Wes, 27
This actually sounds like a pretty awesome first date.
The goal would be to have fun but also have a chance to talk. So like a reading or lecture where we can speak/chill before or after the event.
- Eli, 28
OK, this is adorable.
I prefer to do whatever the other person enjoys doing. So even if I plan the date, I'll take the girl's interests into consideration. That's just how I am.
- Joe, 29
Wow! This guy has planned out dates for the entire relationship.
I understand a lot of the ideas im saying are expensive and would most likely be dates after the first oneSomething where we could/would interact as much as possible. A museum, brunch/dinner, Wine Tasting, fairs, festivals, carnivals, themeparks, if she skates then a skate park or just skating around town.
- jrock07
Honestly, I'm down for anything that includes food.
Cook a meal together.
This guy values his date's company more than anything else. Major props.
First date for me is always simple and easy: drinks (obviously need to change that if you're under 21). I would not do any type of event (sports game, show, movie, etc.) because then the event is the focus, and you're trying to get to know each other on the first few dates. Drinks keeps it more casual than dinner, and you'll both loosen up a little bit. The only other suggestion I'd make is an activity you can do together. Mini golf, sip and paint, maybe a museum, etc..
I appreciate the logic behind this because it sounds like you'd need to vet this guy, too.
Rather just meet them, something easy so i know she isn't boring or crazy or w/e. Drinks, snacks, things that can take 30 minutes if needed, and extend it if we have a good time.
OK but isn't this so 2016?
Netflix and chill.
I love that this guy has thought about the weather. *Heart eyes*.
It's winter so a skate and then hot chocolate or something would be a good idea right now. It's public which helps on a first date if either of you are uneasy meeting someone for the first time in a more secluded setting, it's cheap. And skating opens up for helping each other balance which opens to a little physical contact.
- kspades
Wow, this guy has the best first-date advice.
First dates are more or less just getting to know one another. Odds are you're friends, or on friendly terms, so both of you are openly interested, or bored. Try to do something that you both can have fun with?
My first date with my previous ex was just going out for drinks and pizza. My first date with the ex before that one was going to the city and just walking around this nice shopping center by the river. My first date with the ex before THAT on was to art festival. Before THAT one was to the movies.
Now, SECOND dates are where my most fun happens. My second date with my most recent ex was a picnic by the lake and we just wrote in journals to one another.
I'm about to go on my second date with someone I'm interested in, and it's this painting class where we paint similar pieces as we follow along with an instructor. Nothing too stressful, and it's a cool, physical memoir of time spent together, whether it's a long lasting relationship or not.
The point is, try doing something you see yourself wanting to do with the same person (whether it's a relationship you see lasting, or whether it falls through is irrelevant). Do something YOU want to do. And something you would want to share with your best friend.
Some of the best dates I've been on have been unplanned. Don't stress too much about what you and your date end up doing, as long as you have fun getting to know each other.
Check out the entire Gen Why series and other videos on Facebook and the Bustle app across Apple TV, Roku, and Amazon Fire TV.
Check out the "Best of Elite Daily" stream in the Bustle App for more stories just like this!