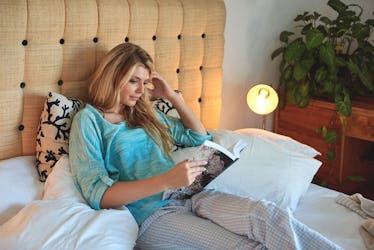 Experts Say These Childhood Sleep Remedies Are Definitely Worth Trying In Your 20s
Isn't it ironic that something as essential to your well-being as sleep can be so hard to navigate? When you're a baby, all you do is sleep, and when you're a child, naps are carved into your daily routine. But then you grow up, life happens and becomes inevitably chaotic as you attempt to juggle class schedules with work schedules, on top of everything else. Sleep might be a natural thing your body craves, but it doesn't always come as naturally as it did when you were a kid. Luckily, a handful of childhood sleep remedies can work for adults, too, so you might want to take notes.
According to Jennifer Cooper, chief scientific officer for the customizable sleep aid supplement brand, RestoreZ, sleep is, oftentimes, something you assume to be simple: You hop into bed, close your eyes, and sleep should just come, right? But the truth is, Cooper clarifies, your body starts preparing for sleep hours before it anticipates your bedtime, so the preparations you take to wind down an hour or so before bed are critical.
The problem is, despite your best efforts to fall asleep, there are still plenty of nights when shut-eye just doesn't come easily. So what are your options? Experts suggest putting down your smartphone, trying to be a little more consistent in your bedtime and the time you wake up, and, overall, just going back to basics. In other words, lean into the sleep remedies that seemed to work well throughout your childhood. Granted, those days are long gone, meaning your memory might be a little fuzzy, so, if it is, here are a few foolproof childhood sleep remedies that experts in the space swear by.