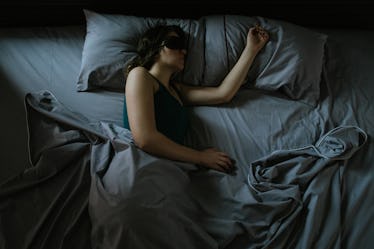 These White Noise Machines Will Help You Sleep Through The Night & They're Affordable AF
You can't always control the sensory experiences in your life. Whether you're walking down a hot city street on trash day, or tasting something in your soup that feels suspiciously like a fly, life can come at you kind of fast. But when it comes to your sleep environment, sensory invasion can be kind of a nightmare. If your room is filled with sounds that aren't exactly conducive to a good night's sleep, then it might be time to invest in the best white noise machine that your budget can afford.
One of the first things you learn when you leave home and live on your own is that walls can be thin — very thin. You might end up listening to your roommate as she embarks on an epic, four-hour phone call with her best friend from home, or even worse, while she does, um, other things that she thinks you can't hear. Or you might live on an especially noisy street, filled with honking trucks and screaming store owners. Or your partner might just snore louder than all of those noises combined. You can't always plan for or prevent the intrusion of noises during your nighttime snooze, but what you can do is try to take the matter into your own hands.
White noise machines work by drowning out distracting or stimulating noises with another more soothing and repetitive noise, like the sound of waves crashing over a beach, or even just the sound of a whirring fan, blowing out air. If you've never used a white noise machine before, you might want to buy one with several sound options so you can figure out what you like most.
Don't worry — there are plenty of options to choose from. Here are five of the best white noise machines under $50.