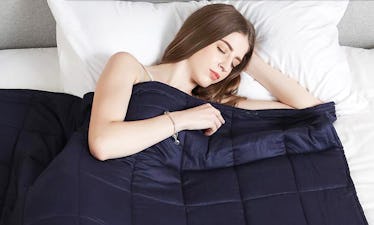 These Cheap Weighted Blankets Might Be The Best 2020 Gift — & They Start At $30 On Amazon
If you've heard the buzz about gravity blankets and are ready to try one out, you don't have to spend tons of money. In fact, the best cheap weighted blankets are a great entry point to this niche, science-backed blanket category.
Research actually supports claims that weighted blankets help with sleep and anxiety. Results from a 2015 study published in the Journal of Sleep Medicine and Disorders showed that weighted blankets can reduce insomnia and improve sleep quality. Additionally, a study in the academic journal Occupational Therapy in Mental Health confirmed that they can minimize anxiety in adults.
How To Shop For A Weighted Blanket
Weighted blankets range from 3 pounds to 30 pounds and vary in size, with everything from small throws to king-sized comforters available. Most weighted blanket manufacturers provide weight charts that generally recommend choosing one that's roughly 10% of your body weight. However, keep this in mind: The bigger and heavier the blanket is, the more it's going to cost.
In a hurry? These are the best cheap weighted blankets.
1. The Best Cheap Weighted Blanket: Weighted Idea Weighted Blanket
2. A Highly-Rated & Breathable Weighted Blanket: YnM Weighted Blanket
3. The Cheapest Weighted Blanket: LAVEDER Weighted Blanket
Though weighted blankets are known to get pricey, affordable options exist, and I've found a mix of weights and sizes for you. Here, shop a list of the three best cheap weighted blankets you can get on Amazon. They're all under $100, so take your pick and start reaping all the benefits of using a weighted blanket.
We only recommend products we love and that we think you will, too. We may receive a portion of sales from products purchased from this article, which was written by our Commerce team.
This article was originally published on