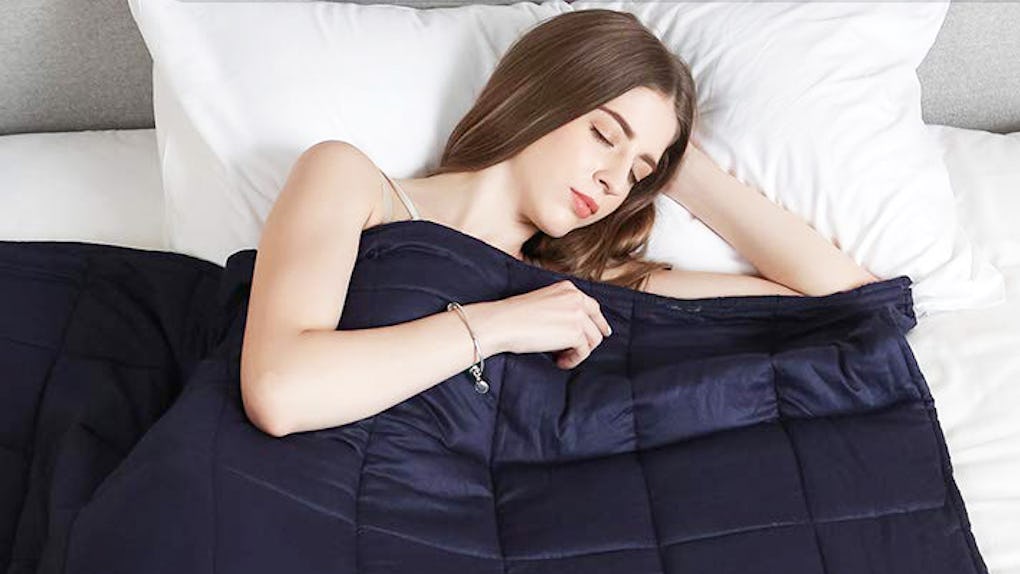 Amazon
The 3 Best Cheap Weighted Blankets
If you've heard the buzz about gravity blankets and are ready to try one out, you don't have to spend tons of money. In fact, the best cheap weighted blankets are a great entry point to this niche, science-backed blanket category.
Research actually supports claims that weighted blankets help with sleep and anxiety. Results from a 2015 study published in the Journal of Sleep Medicine and Disorders showed that weighted blankets can reduce insomnia and improve sleep quality. Additionally, a study in the academic journal Occupational Therapy in Mental Health confirmed that they can minimize anxiety in adults.
How To Shop For A Weighted Blanket
Weighted blankets range from 3 pounds to 30 pounds and vary in size, with everything from small throws to king-sized comforters available. Most weighted blanket manufacturers provide weight charts that generally recommend choosing one that's roughly 10% of your body weight. However, keep this in mind: The bigger and heavier the blanket is, the more it's going to cost.
In a hurry? These are the best cheap weighted blankets.
1. The Best Cheap Weighted Blanket: Weighted Idea Weighted Blanket
2. A Highly-Rated & Breathable Weighted Blanket: YnM Weighted Blanket
3. The Cheapest Weighted Blanket: LAVEDER Weighted Blanket
Though weighted blankets are known to get pricey, affordable options exist, and I've found a mix of weights and sizes for you. Here, shop a list of the three best cheap weighted blankets you can get on Amazon. They're all under $100, so take your pick and start reaping all the benefits of using a weighted blanket.
We only recommend products we love and that we think you will, too. We may receive a portion of sales from products purchased from this article, which was written by our Commerce team.
1. The Overall Best Cheap Weighted Blanket, All Things Considered
Weight: 20 pounds
Dimensions: 60 inches by 80 inches
Why it's great: This queen-sized weighted blanket by Weighted Idea weighs 20 pounds and has an under-$100 price tag, giving you serious bang for your buck. Made with 100% cotton, this blanket adds weight without feeling hot or overly restrictive. Its weighted inner layer features evenly-distributed plastic pellets (they're hypoallergenic, FYI) and is sealed with a soft cotton lining to prevent leakage. It's available in a number of different colors, sizes, and weights, too.
What fans say: "I can't believe that I didn't order one of these sooner!! I ordered the 20 lb blanket and the last 3 nights of sleep have been my best in a long time. No tossing and turning and I usually get hot during the night but haven't with this blanket. I fall asleep faster than before and feel like I'm getting much deeper sleep during the night. [...] Great product worth every penny."
2. A Highly-Rated & Breathable Weighted Blanket
Weight: 15 pounds
Dimensions: 48 inches by 72 inches
Why it's great: YnM's 15-pound weighted blanket uses a layering system that hugs your body for ultimate relaxation. Instead of a weighted layer, this one features small pockets with non-toxic glass beads sewn in, providing supremely even weight distribution and minimizing any bead-induced noise. Its cotton outer layer is breathable to provide optimal temperature control, and like the option above, you can get it a variety of colors. No wonder it has more than 25,000 positive ratings on Amazon.
What fans say: "I'm sleeping better than I have in years and waking up more alert. I don't wake up as often and, if I do, fall right back to sleep. The cover is much nicer than I expected. It's soft and well-made would look nice by itself [...] It's breathable and not hot at all. If anyone is looking for an attractive, well-made, and comfortable weighted blanket, I'd recommend this one."
3. The Cheapest Weighted Blanket
Weight: 7 pounds
Dimensions: 41 inches by 60 inches
Why it's great: If you're interested in trying out a weighted blanket but don't want to splurge on a heavier, pricier option just yet, go with this budget-friendly weighted blanket by LAVEDER. The durable 7-pound blanket uses tiny glass beads as the weighted filling and has a soft outer layer (made from 100% cotton). It's the size of a typical twin blanket and the lightest weight featured on this list, but that doesn't mean it won't be effective. In fact, some people prefer just 7 pounds of weight so they don't risk feeling hot or restricted. What's more, the smaller size means it's easy to tote around.
What fans say: "Good quality blanket [...] Not too heavy and very comfortable."
This article was originally published on