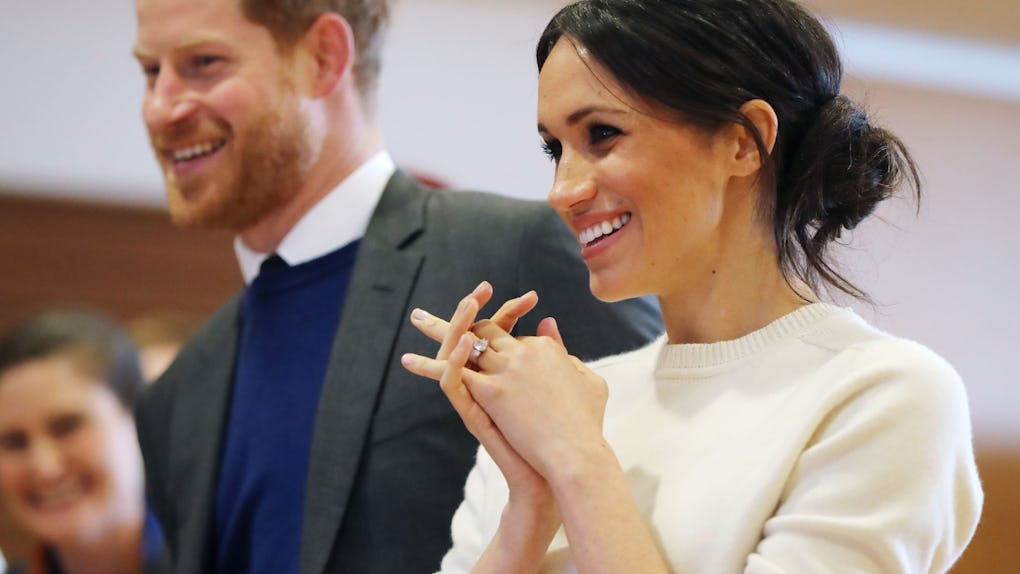 Pool/Getty Images Entertainment/Getty Images
6 British Wedding Traditions That Meghan Markle Should Brush Up On Before May
Are you the type of person who sets their alarm for an ungodly hour so that they can watch royal weddings live? Me neither. I definitely don't get giddy at the thought that princes and princesses are real, I absolutely do not wish Prince Harry was my own husband, and I certainly think being obsessed with royal weddings is trite... [Insert all of the smirks.] My fascination with any and all royal traditions is quite involved — right down to the fascinators. (Pun 100 percent intended.) British wedding traditions are the ultimate random-but-also-classy thing to get excited about, and I took the occasion of Prince Harry and Meghan Markle's impending nuptials to brush up on the rules.
Thus far, Harry and Meghan have already broken with some royal traditions — including the fact that she is both divorced and American, oops! The royal family used to frown on marrying divorcé(e)s — Queen Elizabeth II banned her own sister from marrying the love of her life, Group Captain Peter Townsend, because he happened to be divorced. When Prince Charles (a divorcé) married Camilla Bowles (also a divorcé), the queen skipped the wedding. However, Meghan has Harry's grandmother's blessing, so clearly things are loosening up.
A quick Google of "Harry Meghan nontraditional" also brings up a deluge of British tabloid articles about the couple's choice of wedding cake — The Daily Mail's headline even reads "Crumbs!" The "crumby" blasphemy? Harry and Meghan are going with a lemon elderflower cake instead of the royal tradition of a fruitcake! Call me unrefined, but I think "lemon elderflower" is an excellent decision both in terms of taste and when answering the question "how British does this cake sound?"
Beyond choosing an edible cake, how many other royal traditions are going to make headlines should H&M (oh yes I did) choose not to follow them? Here are some royal wedding traditions you might not have known existed:
1. The Bride Wears White
That's right, the tradition of wearing white on your wedding day began with the Brits. The custom of a white dress began in 1840, when Queen Victoria wore a white lace dress on her special day and pretty much started the longest-lasting Western trend ever. While Meghan and Harry have opted to break with many traditions, I don't imagine wearing white will be one of them.
2. There Is An Official Engagement Announcement
There is always a royal engagement announcement, and subsequent interview. So if you thought Meg and Har were being a bit over the top about telling the world about the new rock on Meghan's finger, it wasn't really up to them. They were just keeping with tradition.
3. The Bride Always Carries A Sprig Of Myrtle
A "sprig of myrtle," you ask, what's that? It sounds like a tiny portion of someone's grandmother, Myrtle. In another royal tradition dating back to Queen Victoria's time, the bride always carries a sprig of myrtle in her bouquet.
4. Royal Weddings Traditionally Take Place At Chapel Royal at St. James Palace
5. The Bride Wears A Tiara
Duchess Kate wore a tiara on her wedding day, following in Princess Diana's footsteps, and chances are Meghan will follow suit. (Because who wouldn't want to wear a tiara while casually becoming royalty?) However, a tiara is not a crown — a crown forms a full circle around the wearer's head, and while any married woman can wear a tiara, you must have actual state power to wear a crown.
6. The Bride Has A "Hen Night"
While "stag parties" — and now stag weekends — are the British version of bachelor parties that have existed for ages, women in Britain didn't start having their own bachelorettes — or, "hen parties" because how British is that? — until the 1960s. Wonder what Meghan's thinking about doing? (Also, who are her friends? Must Google.)