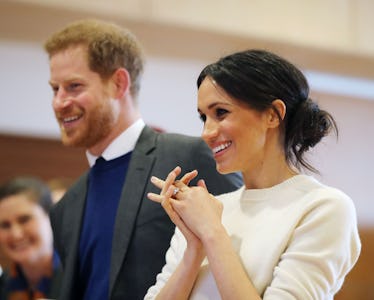 6 British Royal Wedding Traditions That Meghan Markle Needs To Brush Up On
Pool/Getty Images Entertainment/Getty Images
Are you the type of person who sets their alarm for an ungodly hour so that they can watch royal weddings live? Me neither. I definitely don't get giddy at the thought that princes and princesses are real, I absolutely do not wish Prince Harry was my own husband, and I certainly think being obsessed with royal weddings is trite... [Insert all of the smirks.] My fascination with any and all royal traditions is quite involved — right down to the fascinators. (Pun 100 percent intended.) British wedding traditions are the ultimate random-but-also-classy thing to get excited about, and I took the occasion of Prince Harry and Meghan Markle's impending nuptials to brush up on the rules.
Thus far, Harry and Meghan have already broken with some royal traditions — including the fact that she is both divorced and American, oops! The royal family used to frown on marrying divorcé(e)s — Queen Elizabeth II banned her own sister from marrying the love of her life, Group Captain Peter Townsend, because he happened to be divorced. When Prince Charles (a divorcé) married Camilla Bowles (also a divorcé), the queen skipped the wedding. However, Meghan has Harry's grandmother's blessing, so clearly things are loosening up.
A quick Google of "Harry Meghan nontraditional" also brings up a deluge of British tabloid articles about the couple's choice of wedding cake — The Daily Mail's headline even reads "Crumbs!" The "crumby" blasphemy? Harry and Meghan are going with a lemon elderflower cake instead of the royal tradition of a fruitcake! Call me unrefined, but I think "lemon elderflower" is an excellent decision both in terms of taste and when answering the question "how British does this cake sound?"
Beyond choosing an edible cake, how many other royal traditions are going to make headlines should H&M (oh yes I did) choose not to follow them? Here are some royal wedding traditions you might not have known existed: