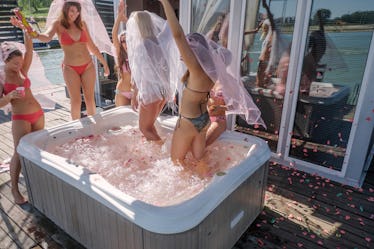 6 Bridal Party Hookup Stories That Are SO Scandalous, You Can't Help But LOL
Being a bridesmaid can mean many things, but one is for certain: proximity to other cuties at the wedding. Whether you've got your eye on the best man or the bride's sister is making you hot — sometimes, being in a wedding means getting it in at the wedding. When it comes to wedding flings, bridal party hookup stories can be awkward, unexpected, and sometimes, just straight-up hilarious. From looking through the wedding program to find your date's name to dancing with a cutie while wearing the ugliest bridesmaid's dress, these silly and steamy tales will have you laughing so hard, you'll completely forget about trying to catch the bouquet.
Although it's easy to get caught up in the moment during a wedding hookup, there is always time to have a little consent check in before getting it on. After all, weddings are an amazing time to feel some serious sparks with a stranger (or someone you thought was a stranger who turned out to be the groom's brother who you had, in fact, met multiple times, but finally cut off their mullet).
Whatever the case, these six stories about bridesmaids getting theirs will make you laugh so hard, champagne will come out your nose.