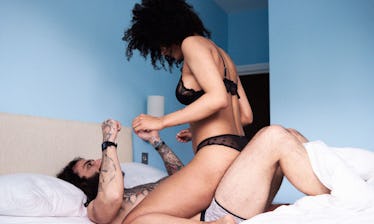 7 People Reveal Their Wedding Hookup Stories & OMG, They're So Hot
Weddings are pretty much always guaranteed to be an interesting time, especially when all of your friends from high school and college start getting married — it's like each wedding turns into a mini reunion. You'll cry, you'll laugh, you'll dance, you'll take advantage of the open bar — and maybe, just maybe, you'll connect with someone cute and single in the wedding party. Honestly, it's no wonder wedding hookup stories abound — a room full of people dressed to the nines and feeling cute, celebrating love, of all things? It's definitely a recipe for a little flirtation, at the very least.
It might seem like meeting someone at a wedding — whether it leads to a one night stand or an actual love connection — is a cliché (especially when you think about all the TV and movie moments in which someone winds up with a bridesmaid or a groomsman!). But apparently, these things happen all the time — and some of the real life stories are pretty steamy.
From unexpected encounters with a coworker (or even an old flame!) to a bridesmaid and groomsman getting it on in the same room as the bride and groom, here are some real wedding hookup stories from the people who have lived them, courtesy of reddit.