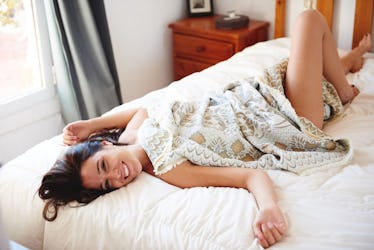 A Sexpert Breaks Down How To Ask For & Give Consent Without Feeling Awkward
Giving and receiving affirmative consent before hooking up or having sex (also known as "yes means yes") is always important. Now more than ever, it's imperative that you explicitly ask your partner for their verbal consent before engaging in any kind of sexual activity. And of course, you should also outwardly express that you are consenting to the situation at hand. Understanding how to ask for and give consent before sex may sound simple, but when you're in the heat of the moment, actually having the consent conversation can feel awkward, distracting, or just too intense. Don't let those feelings stop you from discussing consent with your partner. The more you practice asking for and giving consent, the less uncomfortable it will become.
As a reminder, affirmative consent means that all partners clearly agree to engage in sex. Consent can be withdrawn at any time, and "silence or lack of resistance" does not imply consent. Additionally, a person can't consent while intoxicated, and partners have to consent every time — regardless of whether they've consented to similar behavior in the past. You may have also heard the term "enthusiastic consent." Enthusiastic consent is a little different from affirmative consent, as it goes beyond simply saying yes. It's about ensuring that both partners are not only OK with what is happening, but are actively enjoying it.
Now that you know what consent entails, you're probably still wondering how to go about asking for and giving consent before sex. Here's how to do it, according to a sex educator.