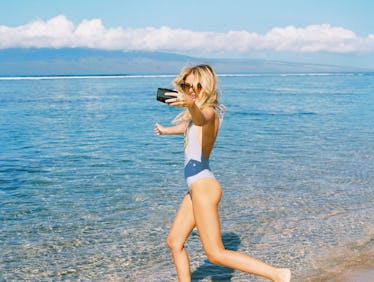 6 Best Things About Being Single In The Summer, Because The Heat Isn't The Hottest Part
There are a million different ways to live your best life. Everyone is different, and whether being single or being in a relationship makes you happy, that's totally up to you. But, if you're single, and you're surrounded by couples and people in healthy, happy relationships, it can be hard to remember that being single is awesome, especially during the summer. Yes, the best things about being single in the summer prove that not being in a relationship right now could be the best thing for you.
The thing is, summertime is perfect for being single. It's hot outside, you'll probably go on at least one trip, and, like, all the good shows are on a summer hiatus so you might as well be out flirting it up!
OK, maybe that isn't exactly your style, but you get my point. While the fall and winter are all about having someone to cuddle with (or multiple someones, whatever floats your boat), the summer is the time to let loose, meet new people, and do what makes you happy. Go to a pool party and make out with a random dude your friend's brother went to college with. Go to a rooftop party and get that girl's number you've ben eyeing since March. You're free, little birdie, and you should definitely start flying.
But if you don't believe me, just read on for the absolute best things about being single during the summer.