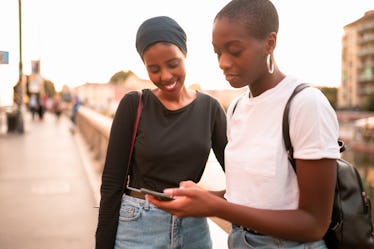 50 Punny Group Chat Names For College Friends Who Are A Big Dill On Campus
MStudioImages/E+/Getty Images
Out of everything you learn in college, one of the most important things is becoming a master of your own schedule. When you're balancing classes and late-night study sessions, it'll help to have punny group chat names for college friends to stay connected to your crew on the reg. When you're not watching recitations or grabbing snacks from your kitchen, you're probably texting your besties funny memes or dishing on your day-to-day tea. Having a no-name group chat is like trying to write a thesis hours before the deadline — it's pretty messy.
You want to be able to get a hold of your squad when you have a free window between classes so that texting's a breeze. Since you have so many chats going on at once, you don't want to accidentally send the wrong message to the wrong group. Instead of sending notes from lectures, you might send your study group an #OOTD selfie that was meant for your besties' eyes only. (Oops.) You might also accidentally send your roomies an inside joke they're not part of. Avoid those WTF moments altogether by updating your chat with any of these 50 punny group names.
Considering your friends always find a way to make you LOL, choosing a punny name is only fitting. Go with something that puts a smile on all your faces and really fits your vibe. If you're a crew who enjoys similar study session snacks, go with a food pun like, "Let's Taco Bout Last Night." For friends who are bound to be besties for life, go with a pun that shows how much you care about each other, such as, "Love You So Matcha." Once you've settled on a name, the next time you want to send out a "what's up" text, you'll be able to send it with no prob-llama at all.
1. My College Friend-Chips
2. Toucan Play At This University Game
3. Crushing Greek Life
4. We're Hopeless Ramen-tics
5. Cannot Espresso How Much You Bean To Me
6. Ketchup With Dorm Friends
7. Let's Taco Bout Last Night
8. Sodium Funny Friends
9. My Uni-corn Friends
10. We're Booked At The Library
11. Nothing Is Im-possum-ble
12. Snailing The Semester
13. Calc-U-Later Friends
14. We Hope This B.S. Pays Off
15. Doughnut Make Me Go To Class
16. You Sweater Believe It
17. Haunted By School Spirit
18. Periodically In Class
19. The Squadratic Equation
20. One Smart Cookie [cookie emoji] [glasses emoji]
21. Have A Loafly Day On Campus
22. Just A Bunch Of Cu-teas
23. Grapeful For College Friends
24. My Bae-Goals
25. Shrimply The Best
26. Destined For Grate-ness
27. Mermaid To Be College Friends
28. Real Big Dill On Campus
29. Booked Up All Semester
30. Quad Squad 4 Life
31. Love You So Matcha
32. Cerealsly The Best
33. Lava My College Friends
34. Thinking Bao Food
35. Dino-Mite College Crew
36. Eggcellent School Squad
37. We Are Gourd-Geous
38. Bearly Awake In Class
39. In Our Element
40. Pawsome College Friends
41. Love A Latte
42. Relish These Moments
43. Love These Chips A Guac
44. Oh Ship, Late For Class
45. Squad Ghouls With Spirit
46. Loving That Ewe-niversity Life
47. My Snooze Crews
48. Best Witches On Campus
49. My Support Bras
50. The Campus Tea
This article was originally published on