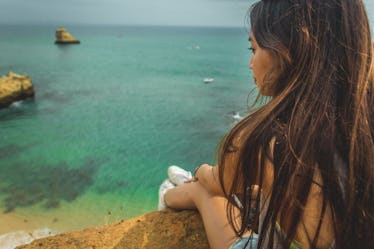 5 Travel Struggles Millennials Deal With That'll Make You Laugh, But Also Renew Your Passport
In a dream world, you may spend your entire life traveling. You would grab a one-way ticket to someplace in Europe, and spend a month or two there. You'd treat yourself to authentic Italian pasta and explore the museums, then take a flight elsewhere. You would constantly hop from one dreamy destination to the next, and get paid to do so. But unfortunately, reality just called, and you answered. It reminded you that you face the travel struggles millennials deal with on the reg. Let's laugh about them together, though, OK?
First things first: Let's address the other annoyances that happen to anyone going on a trip — not just your generation of travel lovers. There are the long lines at the airport that make you rush to your gate so that you don't miss boarding your flight. There are the times of the year when you choose to visit a beautiful place, and everybody else in the world seems to have the same idea. And there are the trips that you can't plan quite yet, because your passport needs to be renewed. Ugh!
Those struggles are all very worthy of an eye roll and complaining to the bestie who you're traveling with. They're worthy of saying, "The struggle is real," before hopping on another plane with not much leg room. But, they don't quite compare to these five instances that only millennials know, understand, and are able to laugh about. Pinky promise.