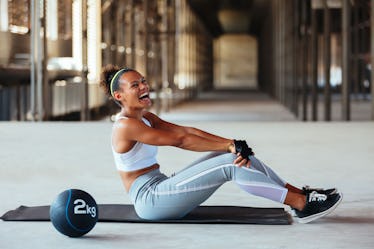 Millennials At The Gym Can Relate To These 5 Hilarious Struggles On The Reg
BONNINSTUDIO, Stocksy
Like many millennials, I have a love-hate relationship with the gym. I love going to yoga and spin classes, because they are really therapeutic and rewarding for me. I don't mind trying out the different machines when I have a fitness-loving friend or trainer with me who knows how to operate them. But, I'd be lying if I said I don't workout sometimes purely for the post-workout smoothie — because I do. In fact, I go through a lot of the gym struggles millennials face that'll make you laugh and say, "same."
I know what it's like to have to motivate yourself to hit up the gym, when all you really want to do is catch up on the latest season of Queer Eye or head to happy hour with coworkers. I know what it's like to text your roommates, asking if anybody wants to try out a new spin class, and to get the response, "No, thanks." Most importantly, I know what it's like to want all the cute outfits for the gym and realize that you should probably pay for rent instead.
In a dream world, you would own all the sports bras and floral leggings that your favorite influencers talk about on Instagram. You would go to the gym after work, and all the machines would be free and available for use. That's just not the case, yet, so you're learning to laugh at these five struggles.