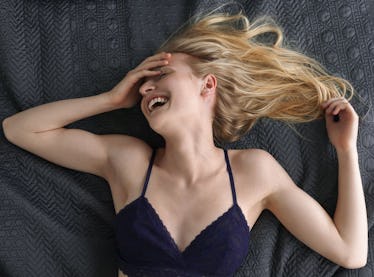 These 5 Normal Sex Things Happen To Everybody — So Don't Worry, It's Not Just You
Sex is undoubtedly one of the most intimate acts you can share with someone, in addition to being an incredibly vulnerable experience. While there's the potential for some beautiful, blissful moments — whispered secrets, tender kisses, those three little words — there's also the potential for some pretty embarrassing ones, too. Unexpected noises, awkward encounters while switching positions, and struggling to achieve the big O — these are just a few of the totally normal things that happen to everybody during sex.
You know those on-screen sex scenes where protagonists get right to business in a perfectly choreographed sequence that leads to simultaneous orgasms? You've probably realized by now that those seem too good to be true because they are. Our bodies are pretty amazing — but they're far from predictable. (Side note: If you need a little reassurance that your between-the-sheets blunders are nothing to stress about, look to TLC's show Sex Sent Me to the ER. 'Nuff said.)
Hopefully, you're in a supportive relationship with an understanding partner who can laugh right along with you (or in some cases, ignore the incident entirely) so you don't experience any unnecessary shame or self-consciousness surrounding tier sexual encounters. But next time one of these sex snafus happens to you, take a breath, relax, and remember: it's normal, it's OK, and it's definitely happened to someone else at some point in time.