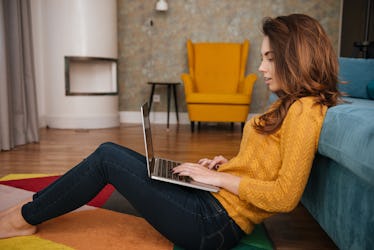 Need To Break Up Over Zoom? These Expert Tips Will Soften The Blow
Shutterstock
As it turns out, ending a relationship during a pandemic is not an easy feat — but fortunately, video chat technology can make a breakup feel more personal than a cold text. These days, people are having first dates, engagement parties, and even weddings over Zoom — and now, they're breaking up over Zoom as well. There's even a new term for this trend: "zumping." Fortunately, it is possible to pull this off with compassion — and I gathered some expert tips for Zoom breakups that can make a massive difference.
While it may not be ideal, there are situations in which ending a relationship over video chat is the only option. "Whether you are doing long-distance, or you are practicing physical distancing, breaking up in person may simply not be possible," says breakup coach Natalia Juarez. "As such, the next best thing is to have the conversation face-to-face over video."
Chelsea Leigh Trescott, breakup coach and host of the podcast Thank You Heartbreak, adds that if your relationship has been adding another layer of stress during this pandemic or you're feeling emotionally drained, then it's absolutely OK to step away from the situation to focus on your own well-being. If you're not currently quarantined with your partner, the only safe way to do that is to break up over Zoom. As Trescott points out, a Zoom breakup will feel more personal than breaking up over the phone (since you can see each other's faces, which offer a ton of non-verbal communication cues). As an added advantage, the very nature of the app (which is often used for work meetings) can help to keep emotions from escalating.
All that said, splitting up over Zoom is no easier than ending a relationship IRL. In fact, you'll have unique challenges to deal with, like figuring out whether to schedule your breakup and how to gain a sense of closure over video chat. Hopefully, these expert-approved tips will ease the experience for both of you.