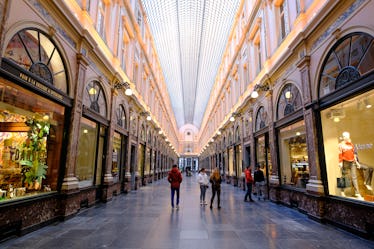 You Should Know These Major Coronavirus Terms To Stay Up To Date
Thierry Monasse/Getty Images News/Getty Images
This post is updated regularly to reflect the latest news and science around coronavirus, also known as COVID-19.
As the number of those impacted by the coronavirus continues to rise around the world, it's more important than ever to protect yourself and those around you by practicing good hygiene and taking preventative measures. After the World Health Organization (WHO) categorized the coronavirus and the disease it causes, COVID-19, as a pandemic on March 11, numerous businesses and schools have closed their doors, while major public events have been canceled in an attempt to limit the outbreak. But with all the changing information, you might be wondering what "social distancing" means, and why is it so crucial to "flatten the curve"? Here's what to know about these important coronavirus terms so you can stay up to date on the latest information about this disease outbreak.
As of March 16, The New York Times reported that there were 3,823 confirmed cases of the coronavirus in the United States, and that numerous states, including Washington and New York, had declared a state of emergency. With the number of cases growing by the day, both states and the federal government have leapt into action to control the spread of the coronavirus and reduce the strain on the country's medical system. Here are the terms you should know to be as educated as possible about the outbreak.
This article was originally published on