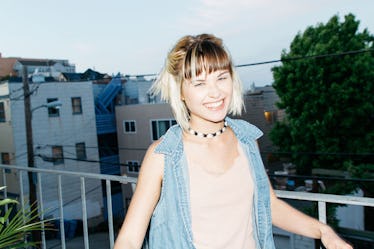 5 Tips For Moving In The Summer That'll Help You Beat The Heat & Stress
Recently, my boyfriend and I moved out of our first apartment. It was a cute and cozy place, with walls covered in band and movie posters and a fridge filled with the best snacks from Trader Joe's. (I'm talking cookie dunkers, brownie crisps, and asparagus risotto here.) But, the lease was about to go up and we found an even better place nearby, so we began collecting bins, gathering our keys, and filling suitcases with our clothes. We spent an entire weekend in the heat of July packing up the waffle maker and other appliances in our kitchen, going through closets, and vacuuming a lot. That's why I feel so qualified to give you some solid tips for moving in the summer that'll help you beat the heat and stress.
Not to overwhelm you or anything, but it's definitely a lot more than I expected it to be. I didn't realize when we first started organizing and cleaning that moving is a lot of 12-hour days, flights of stairs, and rushing back and forth from one destination to the next. It's reserving a truck, purchasing many rolls of bubble wrap, and eating a piece of bread for a snack because the rest of your food is, well, somewhere.
It's a team effort — a job you can't do without the help of your new roomies, besties, or significant other. But, it's also manageable — especially if you keep these five tips in mind.