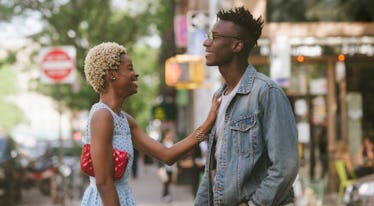 5 Things You Should Never Feel Guilty About Asking For In A Healthy Relationship
Everyone knows relationships come with the very important element of compromise — making some sacrifices, or at the very least, learning to make decisions together and consider another person's feelings when you make decisions for yourself is part of what makes a partnership work. That said, there are some things you should never feel guilty for asking for when you're in a relationship.
Relationships are work and effort, and there's no getting around that. Being with someone is a choice you make every day, even if it feels like that decision's an easy one most of the time. You have to figure out what works for both of you and sometimes that means asking for what you want or need, just like it means being prepared to listen to what your partner is looking for, too. Whether that means asking for more time together, asking for time apart, or asking for their help doing something that's important to you, the thing to remember is that you're allowed to ask without feeling guilty. Just remember, no matter how long you've been in a relationship, putting yourself first is important — the key is making sure that you do it in a way that is respectful of your partner's needs and feelings, too.
Here are five things you should never feel guilty about asking for in a healthy, fulfilling, and loving relationship — and things you should encourage your partner to ask for, too.