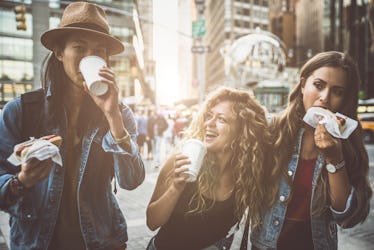 8 Reasons Why One-On-One Time In A Big Friend Group Is So Important & Necessary
You and your crew roll deep, and each of you helps make up one of the coolest and most dynamic groups of all time. Regardless of how you all met, you take pride in your tribe. All of you are individuals, and everyone needs a little special TLC that boils down to one-on-one hangout sessions. To be honest, spending one-on-one time with friends who are part of your big crew is crucial to how you all function together.
Hanging out with just one of your friends every once in awhile doesn't mean you are rejecting the amazing feels the whole group gives you. You're not taking a break from chaos, but tending to one of the many lovely parts that make up your big group. Each piece is so special and important. There's no better way to discover that than by getting in some one-on-one time with them.
Together, you are all solid, and that's mostly because you bond with each one of your friends separately. That's the luxury of having a reliable, big group of friends. Despite common belief, that quality time you dedicate to each friend individually sometimes, is a prime contributor to why you all function so well together.