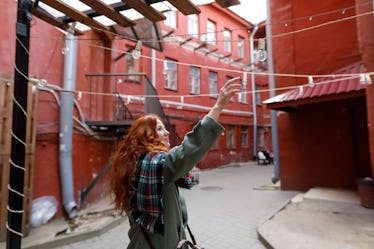 5 Things That Seem Scary To Do Alone For The First Time, But Really Aren't
Katerina Kouzmitcheva, Stocksy
Spoiler alert: Adulting isn't as intimidating as it may seem. Sure, there are some days when you're trying to adult and it feels like you know next to nothing. You call up your mom or dad, completely worried about rent bills, a broken water heater, or grocery shopping. (Where do you even start?) But, after a few trips around the "real world" block, you have it down to a science. You realize that you're capable of handling and enjoying a lot more than you thought you could — and that there are things that seem scary to do alone for the first time, but probably aren't. Are you ready to face your fears? I think so.
The first time I did something alone, I remember the world feeling oddly quiet. I had the day to myself because everyone was busy or out of town. I planned on grabbing healthy snacks at Whole Foods, shopping, and then heading home to watch New Girl reruns on Netflix.
When I got to the mall, I checked my phone basically a million times for new notifications. I texted my boyfriend pictures of the green juice I tried, along with a detailed review, and my best friends some new outfit options. To be honest: I was feeling a little lonely. But, I also found a lot of joy and comfort in being alone. I think you will, too, after doing even one of these five things.