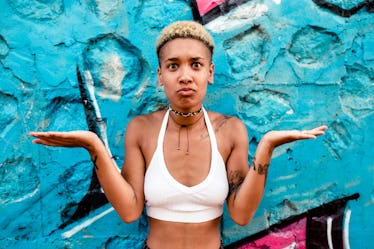 If You Feel Iffy After A Very "Eh" First Date, Send These 5 Texts
If you've ever held up the line at a Just Salad, completely overwhelmed by the toppings, asking the cashier for their opinions on dressing, you're probably familiar with the stress of indecision. It's not always easy to know what you want, especially when it comes to dating. So, after a very OK first date, it's completely natural if you literally don't know if you want to see them again. Still, in the name of honesty, knowing some texts to send after a mediocre first date can keep everyone on the same page — even if you're not sure what page that is.
You never need to feel pressure to instantly know exactly what you want from a relationship. Maybe you're newly single and you're not sure if you're ready to date again. Maybe your date said something moderately questionable about politics and you're not sure if it was a deal-breaker. Maybe you think you'd rather be friends. Whatever the case, if your date clearly wants to go for round two and you're not sure that you're in — it can be considerate to be as honest as possible.
Here are five texts to send if you're not sure you want a second date, but are also not sure you don't want a second date.