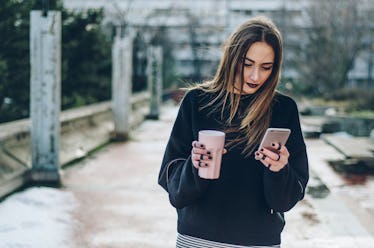 5 Texts To Send Dating App Matches If They Want A Hookup & You Don't
When it comes to finding a date using dating apps, it can often feel like most users are just trying to hookup. (Spoiler: That isn't always the case!) And while there is absolutely nothing wrong with no-strings-attached hookups, if you're on the hunt for something a little more meaningful, then that might require a little bit of patience and dedication to sifting through matches you know you're not compatible with. It may also be a good idea to have a selection of rejection texts for dating app matches who just want to hookup, in your back pocket. Although it may be tempting to mention you're not looking for a hookup directly on your profile, according to online dating coach and dating profile writer Eric Resnick, this might not be as effective as you think.
"Writing that you aren't looking for a hookup is defensive language," Resnick previously told Elite Daily. "It makes you sound like you aren't going to trust the intentions of anyone who contacts you, regardless of what they may actually be." That said, it's still possible to use your profile to highlight the fact that you're interested in something less casual. "If you aren't looking for a hookup, don't talk about hookups," said Resnick. "Talk about the type of person you want to meet and the type of relationship you want to find. Don't say you are looking for someone to rush you down the aisle or to have a baby with, but be honest about the type of relationship you're looking for." Resnick noted that this still might not keep every person who's looking for easy sex from contacting you, so here are some texts to send a match who offers you a hookup.