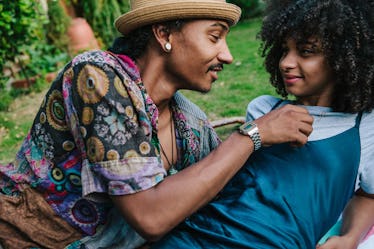 If Your Date Does These 5 Things, Experts Say They Are Only Interested In Sex
When you go on a date with someone, there are a lot of unknowns. Will you have chemistry? Will you actually like them? And, of course, what are their intentions? While you can't exactly read their minds, people usually tip their hand pretty early about whether they're looking to really get to know you or if your date is only interested in sex. If you share their intentions, that's fantastic! But if, on the other hand, you are hoping it will lead to something more serious, then it's important to be able to pick up on the subtle — and not so subtle — signs that they want this date to lead to one place only (in as near a future as possible): The bedroom. The same holds true if you're only looking to hook up, because it's good to know when you're on the same page.
To help spot the signs, I reached out the experts for their advice on what behaviors you'll notice in someone you're on a date with that tell you their goal is just sex. Next time you're out with someone and you're not totally sure what their intentions are, here is how the experts say you'll know.