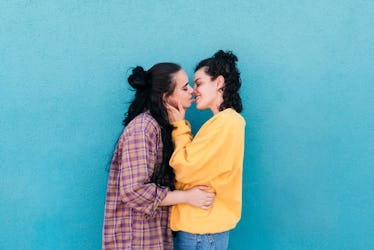 5 Reasons Making Out Is Literally The Most Fun Thing Ever
For most sexually inclined people, the main two reasons making out is fun would be: One, it's pleasurable for them, and two, it's pleasurable for the other person. It's a win-win! But if you stop and think about it, doing the tongue tango feels good for way more reasons than just those two. As health and wellness expert Samantha Morrison explained to Bustle, "Kissing is engrained into human nature."
For starters, the pleasure that you get from making out is literally the result of a hormone, oxytocin, being released when you're kissing. Not only is it a chemical that makes you feel generally happy, but, as psychotherapist Jonathan Alpert told Bustle, "This [also] creates a bond and a feeling of connectedness. A feeling of relaxation and well-being follows."
So apart from feeling good physically, making out (especially with a new partner) can make you feel good mentally, too. And besides, it can be exciting to move into uncharted territory — aka new levels of intimacy — with someone new. The fun of making out doesn't just apply to new kissing candidates, though.
It's also a great way to re-build intimacy between partners — both sexually and romantically. "[Kissing is] also integral to mediating affection and maintaining a lasting bond between partners," Morrison said. Here are five solid ways that prolonged lip-locking can keep the butterflies in your life.