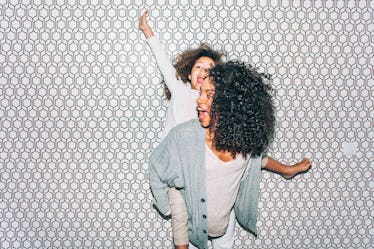 5 Questions You'll Only Get Asked By Your Niece If You're The Cool Aunt She Looks Up To
At some point in your 20s, one of your siblings may have a kid. Your brother might become a dad and start sporting baseball hats, making cheesy jokes, and doing crossword puzzles while drinking his morning coffee — you know, typical "dad" things. Your sister may become a mom and start meal-prepping on the weekends, showing her co-workers pictures of her baby, and saying things like, "Don't forget your helmet!" You, on the other hand, will take on the very important title of "cool aunt." Now, this may be new to you, so let me give you the 4-1-1: You need to be prepared and know the questions your niece will ask you if you're the cool aunt who she looks up to.
Odds are, you will be the cool aunt in your family, and the one person your niece wants to hang out with 24/7. She'll ask her mom and dad on the reg if you can come over for dinner and draw you pictures at school, because she wants you to know that you're on her mind. It's honestly very heartwarming to be this person in your niece's life. But, it's a role that you shouldn't take so lightly, either.
Sure, it's up to you to make some jokes and plan fun activities like going to the park or to the pool in the summer. But, it's also up to you to have answers to these five questions.