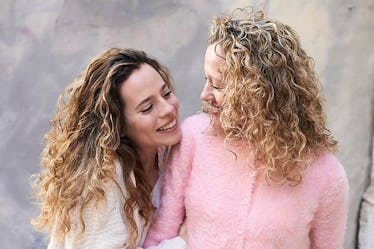 5 Types Of Trips To Take With Your Mom In Your 20s That'll Bond You For Life
In my opinion, one should always be ready to travel. You should have a suitcase that's packed with your favorite shampoos and conditioners, and a mini curling iron that's good for when you're on-the-go. You should have a few pullovers in there, an extra pack of Polaroid film, and packing cubes that are somewhat organized. You never know when you'll want to hit the road. For instance, you may learn all about the best trips to take with your mom in your 20s that'll bond you two for life, and need to go — like, right now.
Are you with me? Of course! In fact, you may jump at any chance to grab your passport or text your travel buddy, "Want to go on an adventure?" This may be one of your best friends, and they eagerly respond with a thumbs up emoji. You have tickets and excursions booked within the hour, and are headed to the airport with your usual snacks in hand. (A chicken caesar wrap and a bag of kettle-cooked potato chips, duh.)
But, to be honest, your mom would be the best travel buddy, because she's always looking to make new memories with you. She's always excited to check out new coffee shops in your town, or take your pictures for the 'Gram. Traveling would be a breeze together, and likely bond you for life. Can I suggest these five trips? Bon voyage!