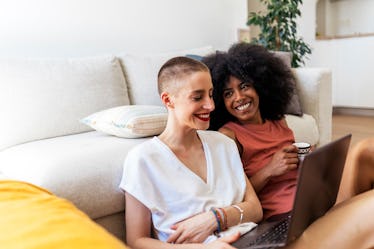 5 Questions To Ask Your Partner Before Sharing Money
Deciding to open a joint bank account with your boo is no small matter. Not only are you trusting them to be responsible with your shared finances, but you're also making yourself vulnerable in exposing your own spending habits — which means you may some explaining to do about those late-night impulse Amazon purchases. (No? Just me? Cool.) Needless to say, it's critical to make sure you're on the same page — and luckily, there are certain questions to ask your partner before sharing money that can accomplish just that, thus warding off some potential problems in your relationship.
According to a 2018 Policygenius survey of 1,526 American adults, only one in five people keep and manage their money separate from their partners. It's super common to open a joint account for a variety of reasons — one of the main benefits is that it simplifies paying bills and other shared financial responsibilities, especially if you live together. However, while the vast majority of people surveyed do share their money, a staggering number of them don't talk about money. Nearly one-third of the Policygenius survey participants didn't know their partner's salary or their debts or assets, and a whopping 47% were in the dark about their partner's credit score.
Look, I get it — talking about money can feel awkward AF. But given that finances can impact your relationship in a number of ways, it's oh so crucial to be as transparent as possible about these matters. Not sure where to start? Here are a few key questions you can ask to get the ball rolling.