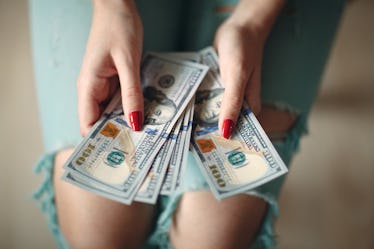 8 Rules Everyone Should Know About Splitting Expenses With Your Partner
There are lots of sexy and exciting milestones in every serious relationship. Your first kiss, your first hookup, your first night together in the home you share... you get the picture. But there is another milestone for any couple (especially one that's moving in together) that may not be as sexy, but is just as important: deciding to start splitting expenses. It's common for couples to fight and have struggles about money, so knowing how to split expenses with your partner can save you both some serious drama, and I think we can all appreciate that.
The first step is learning how to talk about money with your partner in a way that is constructive, but honest. It can sometimes feel awkward to get real about each other's finances, but communication is going to save you a lot of strife over the course of the relationship, so you might as well start with a good foundation. To get some advice on both how to talk about funds and what to discuss, I reached out to relationship and financial experts. Here are their suggestions for how to properly navigate splitting expenses in your relationship.